Norwegian Dark Horse That Won EBay Bid Was a $9 Billion Surprise
(Bloomberg) -- Adevinta ASA used its small size and a savvy $9.2 billion cash-and-stock bid to its advantage this week, surprising bigger and better-known competitors to win a hotly contested auction for an EBay Inc. unit. After the deal closes, the Norwegian tech firm that set out on its own just last year said it will be the world's largest classifieds business.
Rivals -- heavy hitters such as Prosus NV, a $157-billion tech investment company created by Naspers Ltd., and private equity firms including Blackstone Group Inc., Permira and Hellman & Friedman -- saw Adevinta as a long-shot to win early on in the auction, according to people familiar with the bidding. Some of the people involved with competing offers hadn't even heard of the Oslo-based company, which owns a collection of marketplace websites mostly in Europe and Latin America, the people said, asking not to be identified because the comments were private.
Representatives for Prosus, Permira, Blackstone and Hellman & Friedman declined to comment.
While the company is the fourth-biggest publicly traded firm in Norway, up from eighth before Tuesday's deal, its market value was smaller than the size of the unit it was trying to buy. But in the end, Adevinta's smaller size became an advantage. It had to make part of its offer in stock, giving EBay a significant minority stake in the combined business. The U.S. tech giant decided that structure was preferable to an outright cash sale because it gives the company upside if the business does well down the road, people familiar with the matter said previously.
Adevinta was spun off from Schibsted ASA, the Oslo-based Scandinavian media group, last year and its market capitalization is higher than its former parent, which retained a 59% stake. Chief Executive Officer Rolv Erik Ryssdal left his role leading the parent company to take a job at the new high-growth firm.
Read more: Norway's Adevinta Jumps After $6 Billion Spinoff in Oslo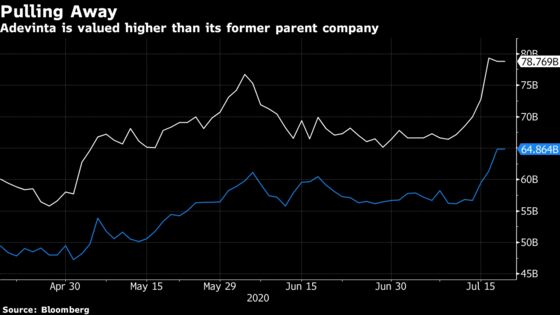 From the start, Schibsted said Adevinta would be positioned to participate in consolidation in the international online classifieds industry. Its biggest deal before the EBay acquisition came earlier this year when OLX, the company's Brazilian joint venture with Prosus, bought Grupo ZAP for 2.9 billion real ($540 million).
Although Adevinta took at hit when governments imposed lockdown to tackle the coronavirus pandemic earlier this year, traffic is now back Ryssdal said in an interview on Tuesday.
"Coming out of Covid, you saw that digital trends are being accelerated," he said. "Classified players are in the prime position to take advantage of that."