Norwegian Cruise CEO Rules Out July U.S. Start; Shares Drop
(Bloomberg) -- Norwegian Cruise Line Holdings Ltd. Chief Executive Officer Frank Del Rio said July sailings from the U.S. are no longer possible, given the time it takes to get a ship ready to sail.
"The July U.S. launch, at least for our company, is just not possible," Del Rio said, speaking on a quarterly call with analysts.
He didn't give a specific timeline, but the industry generally has said that it needs 90 days to prepare a ship.
Norwegian shares fell as much as 6.8% to $27.81 in New York trading after the comments. Industry leader Carnival Corp. was down as much as 3.8%, and Royal Caribbean Cruises Ltd. shed as much as 4.8%.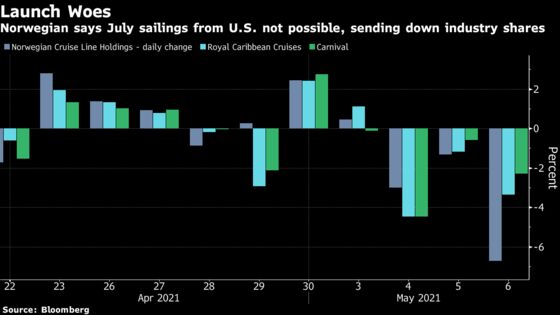 Del Rio's comments come a day after the U.S. Centers for Disease Control and Prevention outlined new rules for returning to the seas.
Speculation had been mounting about a July return after President Joe Biden projected the country could resume a semblance of normalcy by Independence Day. On the back of Biden's announcement in March, the industry started actively lobbying the U.S. government to roll back restrictions on cruising, which the companies say are the most burdensome on any U.S. tourism business.
Norwegian and its peers have found halting progress in their efforts.
New rules outlined Wednesday create two parallel paths for cruise companies to return to U.S. waters. They can start paying cruises up again with certain limitations, provided 95% of passengers and 98% of crew are vaccinated. If they don't meet the vaccination requirement, they can run simulated cruises with nonpaying volunteers for each ship in their fleet, essentially proving the safety of their vessels.
Del Rio said Norwegian would be opting for the first option, adding that the cruise company would demand 100% vaccination -- even more than the CDC requirement.
But Del Rio said he was disappointed in the rules "at first read" and found them onerous. As an example, Del Rio complained about a guideline that states that while temporary mask removal is acceptable while eating or drinking, facial coverings cannot stay off for "extended meal service or beverage consumption."
"Nobody should order soup, because your mask might get sloppy," Del Rio said. "So that to me is just preposterous; it's not in the spirit of where the country is heading."
Cruise companies continued to set sail in the first two weeks of March 2020, even after Covid-19 had begun to strain global hospital systems and batter stock markets, and after the U.S. State Department had warned citizens against traveling on the vessels. The companies suspended U.S. sailings in the middle of that month as the pandemic took hold in earnest.