Norwegian Air Owners Approve Crisis Plan to Keep It Alive
(Bloomberg) -- Norwegian Air Shuttle ASA shareholders approved a restructuring plan that hands almost all of the company's equity to its creditors, after the coronavirus crisis pushed the struggling airline to the brink of survival.
The plan converts almost $1 billion of debt into stock, qualifying the low-cost carrier for state loan guarantees that, along with the sale of new shares, will keep it afloat for at least several months.
The vote capped a dramatic race against the clock over for Norwegian Air, which clinched a last-minute deal with creditors in talks that went through the weekend. Yet the airline's near-term prospects remain uncertain with a market in shambles because of the Covid-19 pandemic, and it could need to seek new funds as soon as this year.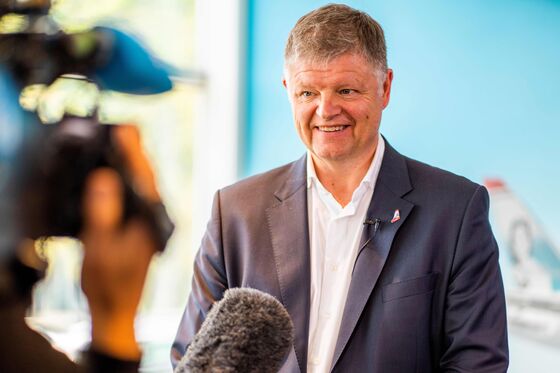 The process has been "one of the most suspenseful finance thrillers ever" in Norway, Chief Executive Officer Jacob Schram said in a webcast Monday after an extraordinary general meeting. While the result is "an incredible relief," the company now has "a lot of hard work ahead."
Shareholders, who were facing a choice between heavy dilution and a complete wipe-out, approved the plan by an overwhelming majority. Leasing companies and bondholders will convert more than 10 billion kroner ($959 million) of debt into equity, while the company plans to raise as much as 400 million kroner in new equity.
The stock rose as much as 49% and was up 18% as of 1:28 p.m. in Oslo. While current shareholders will retain only 5.2% of the company, half of the new capital raised will be reserved for them. The issue will be completed at a discounted price that will be set later on Monday, Chief Financial Officer Geir Karlsen said at the press conference.
Shares have skidded 84% this year, giving Norwegian a market value of $110 million, about equal to the price of one of the red-and-white painted narrow-bodies it sails around Europe.
The deal boosts the carrier's equity ratio, allowing it to meet strict requirements set by Norway to access the remaining 90% of 3 billion kroner in state loan guarantees. Without state help, the company would have run out of cash by the middle of this month.
Like the rest of the airline industry, Norway's low-cost carrier has suffered a body blow from the Covid-19 crisis, which came just as the company was implementing a strategy to cut costs and reduce capacity after years of debt-fueled growth. Norwegian Air's upcoming equity issue will be its fourth in about two years.
Norwegian has grounded almost its entire fleet and drawn up a plan for a new, leaner company with fewer aircraft. It expects to burn through as much as 500 million kroner every month starting in July 2020, it said in a presentation last week.
Painting a bleak outlook for the industry, Norwegian said it only expects a gradual recovery in activity from the second quarter of next year, and normal operations to resume no earlier than 2022. Further funding efforts will likely be needed as soon as this year, it said in the same presentation. On Monday, CFO Karlsen said it had "flexibility liquidity-wise" until next Easter, or April 2021.
Shareholders approved each of the key proposals on the equity raise and the conversion of bond debt and lessor claims with more than 95% of the vote, Norwegian said.
After some of the holders of one of its bonds initially rejected the deal, the company will need to hold further bondholder meetings on May 18, but that's now considered "a formality," Karlsen said.