Norway's Wealth Fund Surges $84 Billion in First Quarter
Norway's $1 trillion wealth fund gained $84 billion in the first quarter, or $16,000 per citizen, after it took advantage of a market sell-off late last year to build its massive portfolio.
Return was 9.1 percent, or 738 billion kroner ($84 billion)
Stocks rose 12.2 percent, bonds 2.9 percent and real estate 1.7 percent
Fund held 69.2 percent in equities, 28 percent in bonds and 2.8 percent in real estate
The fund's chief executive officer, Yngve Slyngstad, said it was an "exceptional" quarter with the third highest quarterly return on record and the highest ever in terms of kroner. He directed the fund to buy almost $30 billion in stocks in November through January to take advantage of a drop in prices and drive its holdings to near the 70 percent limit.
"The most significant change in the first quarter was probably the new signals from the Federal Reserve, which to a large degree drove the market," he said in an interview after a press briefing in Oslo. "There have been very different views on macroeconomic developments from different actors."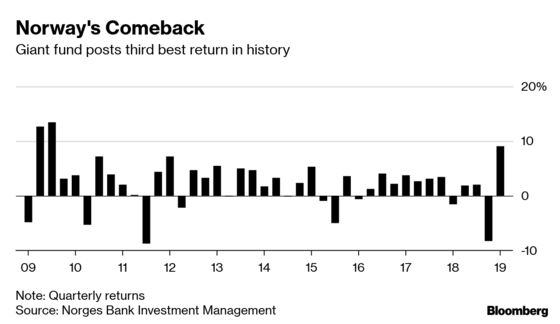 The Oslo-based fund, which holds on average 1.4 percent of global stocks, is largely at the mercy of overall markets, though it has some leeway in how it weighs its indexes and can also stray from the benchmarks. After taking a beating at the end of 2018, it benefited from a rally in equity markets and rising bond prices as central banks, led by the U.S. Federal Reserve, signaled an end to tighter monetary policy.
The investor, built from Norway's oil and gas revenue, is off to a good start to meet its 3 percent real return target. The target was lowered from 4 percent in 2017 after years of record low interest rates and negative bond yields. A slump in crude prices also forced to the government to make its first ever withdrawals in 2016, but those have now ended.
The largest stock holdings at the end of the quarter were Apple Inc. and Microsoft Corp. The fund's technology stocks rose 17.6 percent, with Apple making the most positive contribution to its returns. Among its biggest losers, it said, was Swedbank AB, which is weighed down by money laundering allegations.
Its highest stock returns were 20.3 percent in China and 14.6 percent in North America.
Its largest bond holdings were in U.S. Treasuries, followed by Japanese and German government debt.
In the first quarter, the government deposited 8 billion kroner into the fund, down from 29 billion kroner in the fourth quarter.
The fund earlier this year announced that it would scale back its real estate push as a way of cutting costs and simplifying its approach after struggling to find properties to buy amid near record prices.
But Slyngstad said that as long as real estate can deliver a real return above 3 percent it will continue to be an "important investment area."
"We have found that its comfortable to operate with 8 cities," he said. "In Berlin and Tokyo we would like to see more assets over time."