After $180 Billion Return, Norway Fund Makes No Corona Bets
Norway's sovereign wealth fund isn't planning to adjust its portfolio in response to a wave of global panic triggered by the spread of the coronavirus.
"We're a fund with a 30-year horizon that takes it easy when things are turbulent," Chief Executive Officer Yngve Slyngstad said in Oslo on Thursday. "Of course, we're still closely monitoring the market fluctuations we're seeing, and they are considerable these days. But this is a type of risk that's difficult for us to analyze, and therefore not typically a situation where we go in and act with regards to buying or selling stocks."
Slyngstad made the comments after the $1.1 trillion investor unveiled an eye-watering $180 billion return -- its biggest ever -- thanks to a rally in global stocks in 2019.
The results capped a year in which the world's biggest wealth fund got the go-ahead to push through a spate of changes, including cutting its fossil-fuel exposure. It also started the search for a new CEO after Slyngstad made clear he wanted to step back.
The fund returned 19.9%, or 1.69 trillion kroner ($180 billion)
Stock holdings rose 26%, bonds 7.6% and real estate 6.8%
The investor held 70.8% in equities, 26.5% in fixed income and 2.7% in properties at the end of last year
For the fund, 2019 will go down in the history books as a pivotal year. Norwegians marveled as their piggy bank hit a 10 trillion-krone milestone exactly 50 years to the day after Norway discovered the oil that would fuel the country's vast wealth.
Slyngstad has said that reaching that milestone made him feel the time was ripe to step back, after 12 years at the helm. He will step down later this year once a successor has been found.
"Norway has gone from oil nation to oil-fund nation," he said at a press conference in Oslo on Thursday. Last year's result is "without comparison the largest value increase we've had in a single year."
Stocks had a formidable run in the fourth quarter as investors started to trust that global trade tensions between the U.S. and China might be resolved. The MSCI World Index rose 25% during the year.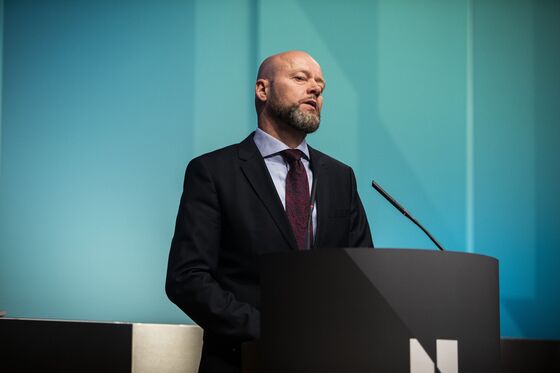 Since then, markets have been roiled by fears that the outbreak of the coronavirus in China will disrupt the global economy for an extended period. The week started with a violent sell-off of stocks while corporate bond markets came to a virtual standstill as issuers and investors struggled to predict the fallout of the virus.
"It's obvious that China is the market and economy that's been the most severely affected by the corona virus to date," Slyngstad said in an interview. "Therefore it will be an economy that we need to follow closely and also see how it develops with regards to the companies we're invested in there. We have around 309 billion Norwegian kroner invested in the Chinese equity markets. Of course it's a large investment for us."
"These types of events, pandemics or other types of events that aren't directly caused by the way the economic machine is working, are something we are quite careful about and therefore do not like to take investment views on, or execute changes in positions in the markets," he said.
And though Slyngstad said the fund isn't altering its portfolio in response to corona, reporters who might have been exposed to the virus were urged to stay away from the press conference on Thursday.
The wealth fund's biggest equity investments at the end of 2019 were Apple Inc., Microsoft Corp. and Alphabet Inc., while its biggest fixed-income investments were U.S. Treasuries, followed by Japanese and German government bonds.
Asked whether the increase in regulations affecting the technology industry might give the fund pause, Slyngstad said it's "a risk well perceived by the investors and something that investors have on top their mind and therefore continuously are pricing into share prices."
These are "large investments," he said. "Therefore of course, a correction will be large in terms of [the] U.S. dollar change in any investor's portfolio. But there's nothing in particular with these stocks from our point of view. They have solid fundamental earnings that we follow closely from quarter to quarter."
Norway's wealth fund was set up in the 1990s to funnel income from oil and gas into foreign assets, to prevent the domestic economy from overheating and preserve as much wealth as possible for future generations. Later, a rule was introduced to cap government spending of Norway's oil riches.
Over the years, the fund has gradually adjusted its investment universe. In 2019, it won approval to start cutting some oil stocks from its portfolio, though not to the extent it had hoped. Politicians also tightened a ban on coal investments and decided the fund should dump emerging market bonds.
These changes will be implemented over time, and the fund didn't appear to have made any big divestments in those categories last year, according to holdings published on its website. The share of its bond portfolio invested in emerging markets was 8% at the end of 2019, up from 7.7% at the end of the third quarter.
The fund's meteoric rise was turbo charged after the financial crisis of 2008, when it snapped up all the cheap stocks others had dropped in a panic. But some of its managers have since warned that the growth of the stock portfolio left the fund more exposed to market volatility. Central bank Governor Oystein Olsen said earlier this month that a financial-crisis style slump could slice 30% off the investor's value.
The fund is also entering a new era, as the government transfers less petroleum income (taxes, direct stakes in fields and dividends from Equinor ASA). Norway's oil and gas production is expected to grow in the next few years, but by the second half of the decade, it's set to fall.
The government deposited 18 billion kroner in the fund last year, less than it had initially planned because of a drop in oil and gas prices.