Norway's Solberg Tightens Political Grip After Winning Key Vote
(Bloomberg) -- Norway's conservative Prime Minister Erna Solberg is set to firm up her grip over Scandinavia's richest nation after loyalists in a support party defeated a proposal that risked toppling her coalition.
After a month of contentious debate, the Christian Democrats on Friday voted against a proposal to side with the opposition, which would have effectively ousted Solberg. Instead, a majority backed an alternative to start talks on joining the government, which would give the 57-year-old the majority she has craved over the past five years.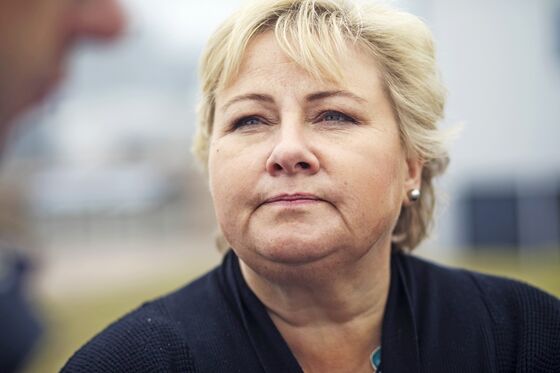 The vote ends a month of uncertainty for Solberg, who last year became Norway's first Conservative Party leader in over three decades to be re-elected after steering the country through the worst oil-crisis in a generation. With a majority at her back, and a deeper commitment from the Christian Democrats, she will have more power push through her agenda of tax cuts and weening Norway's economy off its addiction to oil.
At a press conference late on Friday in Oslo, Solberg called the decision "historic" and said there will now be a "give and take" in the talks with the Christian Democrats. "This has been a goal of mine for a long time," she said.
Of the 190 delegates that convened outside of Oslo on Friday, 98 voted to join Solberg while 90 sided with the opposition and two abstained. The Christian Democrats is one of the smallest political parties in the Norwegian legislature with only 8 of the 169 seats, but have served as a crucial support party for the minority coalition since 2013.
Their leader, Knut Arild Hareide, led the push to defect and unleashed a heated debate ahead of the vote. His two deputies, Kjell Ingolf Ropstad and Olaug Bollestad, argued the opposite view and called for starting talks with the Solberg government.
Hareide said on Friday that he would step down as leader after losing the vote, but called for continued party unity. "We're in a good negotiating position now," he said.
In a bid to lure the Christian Democrats into their fold, the Conservatives opened up for discussing stricter abortion laws. A move that was met with much skepticism from the opposition, and also from the Conservatives' coalition partners, the Liberals and the Progress Party.
If successful, Erna Solberg will negotiate a new political platform with the four center-right parties and secure a majority in parliament. The first hurdle will be to agree on next year budget, which was presented on Oct. 8.