Norway's Krone Hits Record Low Against Euro
(Bloomberg) -- Norway's krone hit the weakest on record against the euro, surpassing the previous record set during the 2008 financial crisis.
The krone touched 10.1641 per euro at 2:45 p.m. in Oslo, according to Bloomberg data, amid pressure from global tensions and weakening oil prices.
"The krone does not trade well with risk," Swedbank economist Kjetil Martinsen said in a note earlier on Wednesday. "In an era of heightened uncertainty, a trade war affecting the pace of globalization and hence also demand for commodities such as oil and gas, investors seem to shy away from small open economies' currencies such as the krone."
Norway is western Europe's biggest producer of petroleum and gets almost half its goods exports from oil and natural gas. The price of benchmark Brent crude has dropped by more than 20% since this year's high in April, trading at about $58.90 a barrel in London on Wednesday.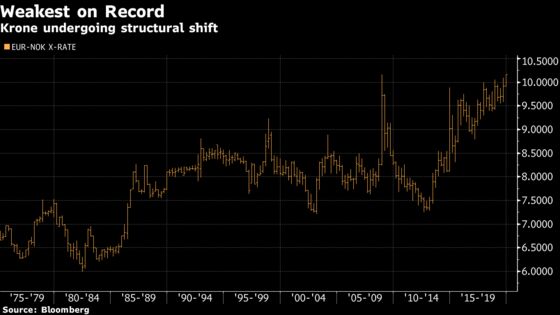 Norges Bank has been puzzled by the weakening currency, which has allowed it to raise interest rates four times since September 2018. The central bank has increased its estimate on the currency's equilibrium exchange rate, meaning that it now sees the weakening currency as a structural shift.
A weak currency was an advantage for Norway during oil's historic slump between 2014 and 2017, allowing other industries to remain competitive. The krone has remained weak despite a relative recovery in oil prices over the past two years.
Prime Minister Erna Solberg, who leads a center-right government, has said Norway's competitiveness in global trade has been "greatly improved" by the krone's steady decline over time.