Norway Flags Risk to Outlook as Tightening Plan Kept in Place
(Bloomberg) -- Norway's central bank confirmed it's prepared to raise interest rates again as soon as March, but warned of "considerable uncertainty" as it takes gradual steps to unwind the record stimulus unleashed over the past years.
The commitment to raising rates comes as the economy nears capacity amid a tightening labor market and above-target inflation. Moving tentatively, policy makers on Thursday kept their benchmark rate at 0.75 percent, as anticipated by all analysts surveyed by Bloomberg.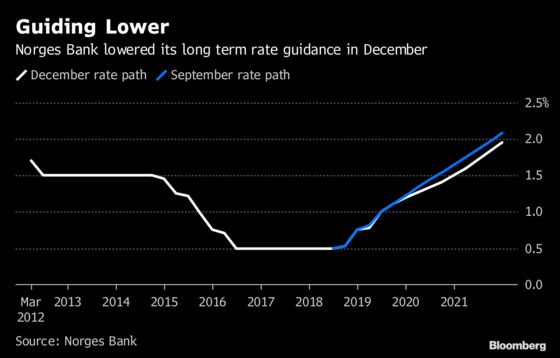 "The outlook and the balance of risks imply a gradual increase in the policy rate," the central bank said. "Global growth is a little weaker than projected, and there continues to be considerable uncertainty surrounding developments ahead."
The bank delivered its first increase in seven years in September, in a move that put it ahead of colleagues in Stockholm and Frankfurt who are also cautiously withdrawing stimulus. Governor Oystein Olsen and his colleagues have flagged an increase in March and aim for another one in the second half of this year.
The meeting was in between the bank's monetary policy reports, meaning it didn't give any new guidance or forecasts, and only issued a short statement. The krone gained 0.3 percent to 9.721 per euro as of 11:08 a.m. in Oslo.
After surviving a slump in oil prices that led to almost three years of sluggish growth, the economy of western Europe's biggest petroleum producer is approaching full capacity and unemployment has slid below 4 percent. But with global growth slowing, and markets around the world looking shaky, other central banks could be slow in unwinding their stimulus, adding to risks that Norges Bank will stoke unwanted gains in the krone.
"In Norway, economic growth and labour market developments appear to be broadly as projected, while inflation has been slightly higher than expected," Norges bank said.
The statement following the rate decision contained few surprises, according to analysts.
"They remain positive to the outlook for the Norwegian economy over the horizon, but recognize that global growth continue to ease and risks are mounting," said Kjetil Martinsen, an economist at Swedbank AB. The bank predicts an increase in March.
The bank will release its next monetary policy report on March 21.