Norway's Biggest Bank Seeks Broader Profit Mix to Match Rivals
(Bloomberg) -- DNB ASA finally feels it's getting some respect from investors, but it has some way to go in matching its Nordic rivals on its income mix.
With Nordea Bank Abp moved to Finland and Danske Bank A/S mired in a money laundering scandal, Norway's DNB is now Scandinavia's biggest bank by market value.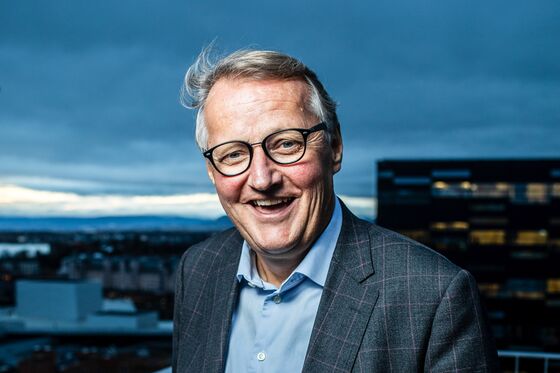 While calling itself the largest Scandinavian bank is tongue-in-cheek to a large degree, for DNB Chief Executive Officer Rune Bjerke it's evidence the bank has emerged from an investor shadow. "It's the most solid of the Nordic banks," Bjerke, 58, said in an interview at its headquarters in Oslo's new Barcode neighborhood. "And based on the solidity, the bank that delivers the best profitability at the moment."
Read more: BI analysis of DNB
The lender, 35 percent owned by the government, is fresh off fending off an oil crash in its home market and is done paring its exposure to the volatile offshore and shipping sectors, which according to Bjerke had dragged the bank down in the eyes of investors. DNB shares are up 2 percent this year, compared with a 19 percent decline for the Bloomberg Europe 500 bank index.
While the bank's 12 percent target for return on equity looks modest versus Swedish competitors, it's actually "radical" given how much more capital it has been forced to keep under the stricter Norwegian rules, Bjerke said. DNB had a leverage ratio of 7.1 percent at the end of the third quarter, compared with 4.9 percent for Nordea, for example.
"If we had their leverage ratio or equity ratio our ROE would have been well over 15," he said.
And looking ahead, Norwegian regulation will likely converge with the rest of Europe, making the playing field more level by 2022, he said.
But the bank is still trailing its main competitors in terms of its revenue mix, which is heavily tilted toward income from lending. The lender is now beefing up investment banking -- even after missteps in the quarter -- and expanding its asset management business.
"Our ambition is to have a growth in capital light products that's bigger than the growth in net interest income," he said. "We're too heavily weighted toward NII compared with the other Nordic banks. We need more capital light revenue to have more legs."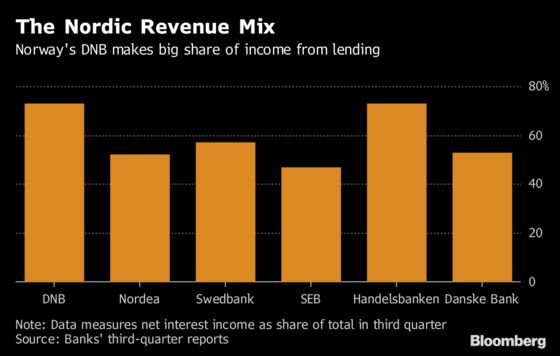 Bjerke is investing in continuing to expand DNB Markets in Stockholm, Oslo, London and New York. But all growth must be profitable in order to reach the bank's target of a cost to income ratio of under 40 percent in 2019, according to Bjerke.
The bank is comfortable with a sustainable lending growth of 3 percent to 4 percent, though is targeting a volume expansion of more than 5 percent in the small business segment, he said.
The digital transformation is also foremost on Bjerke's mind, who's seeking to fend off competitors such as Google and Apple in the battle for people's wallets. The bank now dominates Norway through its Vipps payment app and expects to see more "action" there soon. Banks have an advantage because they are used to working in heavily regulated environments, according to Bjerke.
"There's no question that if one isn't awake, if one doesn't invest and if one doesn't believe in the opportunities all these possibilities give, then one is out of business," he said.