Norway Inflation Misses Estimates as Norges Bank Nears Hike
(Bloomberg) -- Norway's inflation missed estimates in January, while keeping above the policy target and providing fuel for the central bank's ambitions to "most likely" raise rates again in March.
Annual underlying inflation was 2.1 percent in January, Statistics Norway said Monday. That missed the 2.3 percent estimate in a Bloomberg survey of economists and the central bank's 2.2 percent forecast.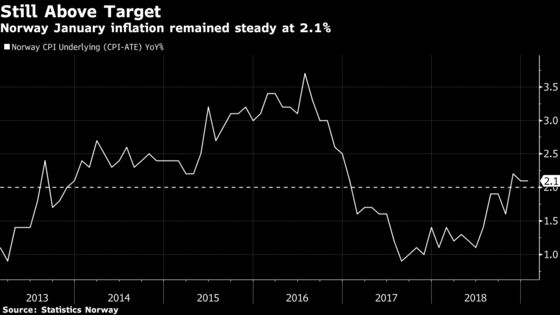 Norges Bank is preparing to raise rates again in March after delivering the first tightening in more than seven years in September. In its latest monetary policy report, the bank lowered its long-term rate forecast on the back of slower growth among its trading partners and lower oil prices.
Recent economic data has been on the upside of most predictions with the mainland economy growing 0.9 percent in the fourth quarter, the fastest pace in more than four years.
Over the past year, electricity prices have pushed up headline inflation amid a cold winter and dry summer. In the latest monetary policy report, the bank said that a weaker krone will keep inflation higher than previously predicted.
Norges Bank is to release its next monetary policy decision on March 21, together with new forecast and policy guiding. The bank said in December it will "most likely" raise rates again in March, lifting the key rate by 25 basis points to 1.00 percent.
"This print should be less important for markets since we get another inflation release ahead of the March monetary policy meeting and given how data over the last weeks have sealed the deal of a March hike," said Danske Bank analyst Kristoffer Kjaer Lomholt.
"The latest inflation data are neutral to the key policy rate path, that is, a rate hike in March," said Handelsbanken economist Marius Gonsholt Hov.
"Overall, inflation has been roughly as Norges Bank expected, but with higher domestic and lower imported inflation than forecast. We think today's figures support Norges Bank plan to hike rates further in March this year," said DNB senior economist Kyrre Aamdal.
The krone weakened 0.4 percent to 9.8166 per euro as of 8:49 a.m. in Oslo.
For more details on inflation, see this table.