Northrop's B-2 Bomber Upgrade to Evade Enemies May Run Late
(Bloomberg) -- The U.S. Air Force is working to keep its aging B-2 bombers adept at evading the improving air defenses of rivals from China and Russia to Iran and North Korea, but the most significant upgrade yet may be as much as 21 months late for initial deployment.
The improved electronic warfare system from Northrop Grumman Corp. for the 1990s-era stealth bomber is projected to cost about $390 million more than planned, or about 14 percent more than the cost that the service calculated in 2015, according to officials and an updated Air Force estimate.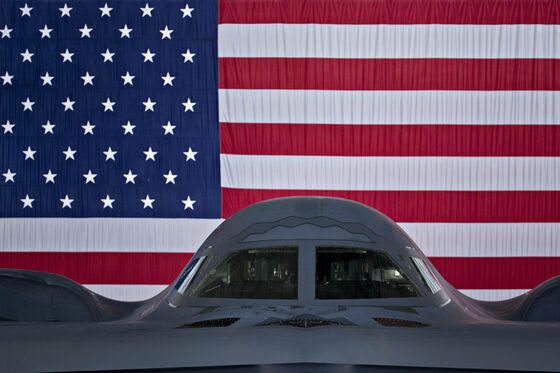 When the Air Force gave the company the initial major development contract for the Defensive Management System Modernization in 2016 it projected enough of the nation's 20 B-2s would be upgraded by about May 2022 to declare the fleet had an initial improved combat capability.
The system is intended to detect, identify and precisely locate enemy radar in dense integrated air defenses. It works in combination with the B-2's composite materials, special coatings and flying-wing design.
But the Air Force's independent cost estimators now forecast that the date may slip to March 2024 and what was projected in October 2015 to be a $2.68 billion program is now estimated at $3.07 billion, according to documents and Air Force and Pentagon statements. That increase must be funded through 2025, so after making up some of the difference the Air Force must find an additional $300 million in its budgets to cover the rest.
An effective system is "essential for a deep-penetrating strike capability," Representative Rob Wittman, chairman of the House Armed Services panel that oversees the program, said in an email. "Unfortunately, this program has promised a lot but delivered a little. This latest schedule delay is especially problematic" so "my subcommittee will carefully assess this latest cost and schedule breach to ensure taxpayer resources are being used wisely."
Northrop Grumman, the original B-2 contractor, is also the prime contractor on the coming B-21 bomber, so its performance has drawn particular Pentagon scrutiny.
The projected delay and cost increase stems from a confluence of events, including the Air Force adopting a new acquisition approach that's taken longer to make final and Northrop's failure until recently to fully staff the program's demanding software development.
The Air Force Global Strike Command, which is responsible for bomber operations, "is tracking a possible delay," a spokesman, Lieutenant Colonel Uriah Orland, said in an email. The timeline "associated with any delay will not be fully known until after" the service conducts its next major review of the system's design, which is scheduled between Oct. 1 and year's end, he said.
"We remain committed to delivering this critical capability as quickly as possible," he said.
First used in 1999 over Kosovo, the B-2 bomber is the only aircraft that can carry the U.S.'s heaviest non-nuclear bomb, the 30,000-pound GBU-57 bunker buster.
Three B-2 bombers were deployed to Guam in January in what the Air Force said was a planned rotation as the U.S. executed its "maximum pressure" diplomatic campaign against North Korea to prompt denuclearization talks with the U.S.
Captain Hope Cronin, an Air Force spokeswoman, said in an email said that the program office for the B-2 upgrade "is confident that the slip" in initial combat capability will be "significantly less than" forecast. Cronin said "much of the schedule pressure is due to changes in acquisition direction, the time to enter into a new contract structure and the time required to finalize" the defensive system's configuration.
Tim Paynter, a spokesman for Falls Church, Virginia-based Northrop, said the company is "fully staffed on the program, and in partnership with the U.S. Air Force, is on track for certification" of the system. "As the largest modernization effort undertaken" on the B-2 evolving "the aircraft for tomorrow's threat environment is critical to national security," he said.
'Substandard' Performance
Ellen Lord, the Defense Department's chief weapons buyer, signaled her concern in June by declining to delegate full oversight of the program to the Air Force, as the service had requested.
In a June 20 memo, Lord's staff said Northrop's performance "has been substandard" and that "it is unclear if the Air Force can afford this program, which has seen substantial cost and schedule growth" since the first major development contract in 2016.
Lord's intention "is to ensure that the program is fully funded" in the next budget cycle and "well-positioned for success before" it's turned over for Air Force oversight, her spokesman, Lieutenant Colonel Mike Andrews, said in an email.
Lord's office assessed that delays in software development "were due to insufficient contractor staffing" but that Northrop "is making progress" on the development contract and conducted a successful preliminary design review in March, he said.
A June 4 memo by Pamela Schwenke, the Air Force's deputy assistant secretary for cost analysis, that laid out the new estimates, said integrating hardware from another classified program as well as "hardware obsolescence" were identified as risks.