Northern Irish Minister Sees Merit in U.K. Triggering Article 16
Northern Ireland will be better off if the U.K. government triggers Article 16 of the Brexit agreement and suspends part of the deal, according to the region's agriculture minister and former Democratic Unionist Party leader Edwin Poots.
"It'll not solve the problems, it will however significantly reduce the number of checks -- it'll massively reduce the number of checks -- on goods coming from Great Britain to Northern Ireland, and whilst our negotiation continues, it perhaps puts us in a better position in terms of the negotiation," Poots said in an interview in Belfast late Wednesday.
Under the Northern Ireland protocol, goods moving into the region from the rest of the U.K. are subject to customs checks if they are at risk of being later moved into the EU. It was an arrangement designed to avoid a hard border with the Republic of Ireland but it's caused trade friction and some resurgence in sectarian tensions.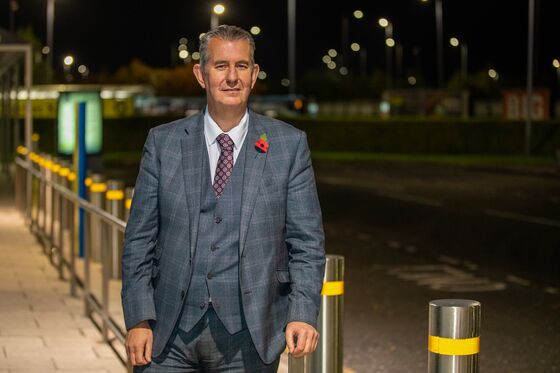 Britain has been threatening for months to invoke Article 16, which allows for limited suspensions of the deal, unless the trade arrangements it agreed to are fundamentally re-written. There is a growing sense in the EU that U.K. Prime Minister Boris Johnson could well follow through with the move and inevitably invite some form of retaliation. 
Poots is doing little to calm the rhetoric. If anything, his words appear to be egging on the U.K. to act.
The checks "are expensive, they're punitive, they're time consuming," Poots said. "Previously we had no checks, now we have a considerable amount of checks which we view as being entirely unnecessary and not in keeping with the Belfast agreement," he added. "We also believe that it doesn't do anything extra to insulate the integrity of the European Union single market, which we believe can be robustly defended through other systems and means."