North Korea Seeks Pompeo's Removal From Talks, Tests New Weapon
(Bloomberg) -- North Korea attempted to turn up the heat on the U.S., demanding that Secretary of State Mike Pompeo be removed from nuclear negotiations and test-firing a new mystery weapon.
A senior North Korean diplomat on Thursday accused Pompeo of "reckless remarks" that had undermined talks between Kim Jong Un and President Donald Trump, and urged his replacement as the U.S. point man. While the regime has criticized Pompeo often since Trump's first meeting with Kim in June, it was the first time an official had formally demanded his replacement.
Meanwhile, the Kremlin confirmed that Kim would meet President Vladimir Putin in Russia later this month. The meeting suggested that Kim, frustrated with the U.S., was trying to show he had alternative sources of support.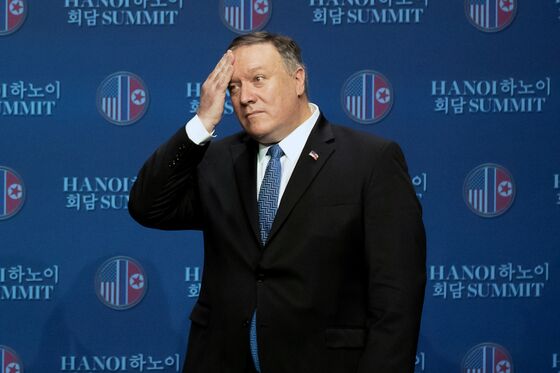 North Korea's statement was published by the official Korean Central News Agency hours after the regime disclosed Kim's test of a "new-type tactical guided weapon" on Wednesday. The move sent a pointed message to Trump about the risk of talks falling apart, even though state media descriptions suggested a conventional weapon that wouldn't violate Kim's promise to halt tests of nuclear bombs and intercontinental ballistic missiles.
Woo Jung-Yeop, a research fellow at the Sejong Institute, said the criticism of Pompeo reflected Kim's desire to speak directly with Trump. The North Korean statement said that Kim remained "on good terms as usual" with the U.S. president, and both leaders have continued to leave open the door to a third meeting.
"North Korea wants to talk to Trump," Woo said. "It is not a matter of who replaces Pompeo."
The North Korean moves appeared to be part of a push by Kim to regain leverage in talks after Trump walked away from their second summit in Hanoi without a disarmament deal. Talks broke down over disagreements over the value of Kim's offer to close some nuclear facilities and U.S. efforts to protect the sanctions regime against North Korea.
Last week, Kim said he would wait "with patience till the end of this year" for a change in the U.S. position. He separately urged senior ruling party officials to deal a "severe blow to hostile foreign forces" by resisting the sanctions squeezing the country's economy.
North Korea's criticism of Pompeo appeared to stem from remarks earlier this week in which the secretary of state suggested that Kim's year-end deadline applied to his own desire to give up his weapons. "He said he wanted it done by the end of the year. I'd love to see that done sooner," Pompeo said.
North Korean diplomat Kwon Jong Gun said Pompeo was "fabricating stories like a fiction writer" and argued that talks required a partner who was "more careful and mature in communicating with us." "Only Pompeo, U.S. Secretary of the State, is talking nonsense that its meaning is to finish the working level negotiation between the DPRK and the U.S. by the end of the year, which subjects him to public ridicule," Kwon said.
"If Pompeo engages in the talks again, the table will be lousy," said Kwon, who is director general of the foreign ministry's American affairs department.
North Korea has repeatedly directed its ire at Trump's aides, accusing Pompeo and National Security Adviser John Bolton of "gangster-like tactics" after the two officials played prominent roles in the Hanoi talks. Trump, however, has signaled that he supports his aides push to keep the sanctions in place.
"The president is fully prepared to have a third summit, if he can get a real deal," Bolton said in an interview Wednesday with Bloomberg News. The White House would need to see "a real indication from North Korea that they've made the strategic decision to give up nuclear weapons."
Kim's weapons test Wednesday was the first since the Hanoi summit and appeared similar to another test of a unidentified weapon in November. The report was vague about the nature of the device, saying only that the "peculiar mode of guiding flight and the load of a powerful warhead were perfectly verified at the test-fire conducted in various modes of firing at different targets."
"It's a message to the U.S.: Don't neglect the North Korean issue," said Koh Yu-hwan, a professor of North Korea studies at Dongguk University in Seoul.
A White House official, who asked not to be identified, said the administration was aware of the report and declined further comment. A State Department official said Washington remains ready to engage in constructive negotiations with Pyongyang.
The Defense Department said the test didn't involve a ballistic missile. "I can confirm there were no threats to our allies in the Pacific, nor to the United States," Charles Summers Jr., a Pentagon spokesman said, adding he would not provide further details "on what is ultimately a matter of intelligence."
The weapon was likely a short-range rocket system, or something that was ground tested, said Melissa Hanham, a non-proliferation expert and director of the One Earth Future Foundation's Datayo Project. Trump has long defended his decision to hold two high-profile summits with Kim by citing his decision to halt nuclear and ICBM tests.