Norges Bank Seen Staying the Course for March Rate Increase
(Bloomberg) -- Norway's central bank is seen sticking to the script this week to slowly lift interest rates as it assesses the first tightening in more than seven years.
Policy makers in Oslo will leave the benchmark rate at 0.75 percent when they announce their decision on Thursday, according to all economists surveyed by Bloomberg. The meeting is in between monetary policy reports, meaning the bank will issue no new guidance or forecasts and won't hold a press conference.
Norges Bank raised rates in September for the first time since 2011, and said in December that it "most likely" will tighten policy again in March. Only a month has passed, and economic indicators have been broadly in line with the central bank's estimates, though inflation has kept above the policy target of 2 percent.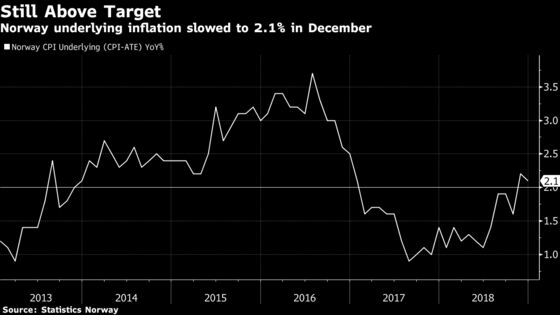 The Norwegian central bank "has every reason to reiterate its message" from December, said Kyrre Aamdal, senior economist at DNB ASA, Norway's biggest lender. "Markets have slightly improved since then and there isn't as much risk as in December."
Scandinavia's richest economy is approaching full capacity again with unemployment stable at 4 percent, oil prices recovering from a year-end slide and petroleum investments accelerating for the first time since the oil price collapse in 2014. The import-weighted krone is trading on the weak side of the central bank's forecast, giving further backing to raise rates again in March.
But with growth around the world showing signs of slowing amid trade disputes, major central banks have signaled a hiatus in their plans unwind a record stimulus. Both the Bank of Japan and the European Central Bank will hold policy meetings this week, and neither is expected to change its stance.
As Norges Bank remains firm in its ambition to raising rates again, undeterred by a slowdown abroad, the Norwegian central bank could end up putting pressure on the krone, according to analysts at Danske Bank.
"The Norwegian krone is set to become much more attractive on a carry momentum basis in coming months," Danske Bank analysts, including Kristoffer Kjaer Lomholt, said in a note.
Norges Bank will release its latest decision on Thursday, at 10 a.m. in Oslo.