Nordic Listings Trend Shifts as Buyouts Now Outnumber IPOs
(Bloomberg) -- The number of exits from Nasdaq Inc.'s Nordic main markets now outnumber initial public offerings for the first time in at least five years, adding to signs of a slowdown in listings activity.
Nordic listings surged to record levels in the past few years as an equity rally made IPOs one of the favorite ways for companies to raise capital and for private-equity firms to exit investments. But that number has slowed this year, while there's been an increase in delistings.
There have been 14 IPOs on Nasdaq's main markets in Sweden, Denmark, Finland and Iceland in the eleven months through November, down from 21 in all of 2017. At the same time, the number of buyouts has jumped to 16, compared with 12 in all of 2017.
Recent takeovers include Ramsay Generale de Sante's 8.19 billion-krona ($902 million) purchase of Swedish healthcare provider Capio AB and Schorling & Partners AB buying investment firm Melker Schorling AB for 5.01 billion kronor.
One of the hottest sectors is real estate. In Sweden, private-equity firm EQT has made an offer for Stendorren Fastigheter AB and Germany's Vonovia SE has bought Victoria Park AB in a deal that values the developer at about 9.56 billion kronor. In Finland, Kildare Partners is in the process of acquiring Technopolis Oyj through its Nordic arm.
According to Pangea Property Partners, a lot of money is waiting to enter real estate. But as the direct market is quite expensive, the stock market has become "a natural place to look for opportunities," it said.
"There are more listed real estate companies than ever before and that in combination with attractive pricing makes the sector interesting for buyers," Mikael Soderlundh, head of research, said. "Underlying property values have increased more than the share prices, so the former premiums are gone."
Foreign investors have been flocking to the Nordic region in recent years, and especially to Sweden. Net foreign investments stand at 21.2 billion kronor so far this year, up from 4.82 billion kronor last year.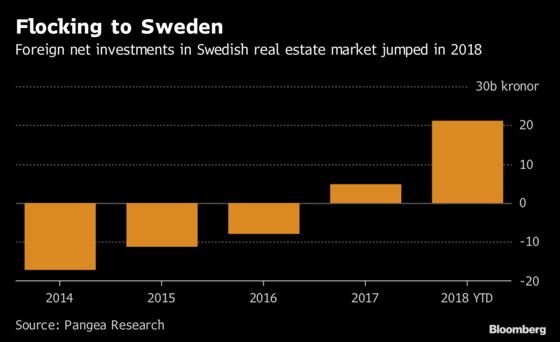 "There were a number of years where investors outside of the Nordics bought some property, but they sold more," Soderlundh said. "That changed last year, when foreign investors started to buy net in big numbers, and that has continued this year."
Adam Kostyal, the head of Nasdaq's European listings, said mergers and acquisitions "are a natural part of a healthy and dynamic market" and that the exchange operator is seeing more and more of its listed companies acquiring both private and public companies.
"The slight increase in public offers this year confirms that the Nordic markets and our listed companies remain attractive for both domestic and international investors," he said.