Nordic High-Yield Bond Sales Seen Cooling on Reduced Fund Flows
(Bloomberg) -- Nordic high-yield issuers may find a more picky buyer-base in the coming months amid a contraction in fund inflows and a dwindling premium compared to international credit markets.
"We are more likely to see monthly issuance average 7 to 8 billion Norwegian kroner equivalent ($859 to $982 million) in the period September to December 2018, below the 10 to 15 billion kroner observed in several months this year," Magnus Vie Sundal, a credit strategist at DNB Bank ASA in Oslo, said in a Sept. 20 client note.
Sales of speculative-grade bonds could drop by 30 to 40 percent in the fourth quarter compared to the first part of the year as investor inflows into the region's high-yield funds turn more moderate, according to DNB. A recovery in oil prices and an improvement in Norway's economy, together with a widening in European credit spreads, have also meant that "the spread premium" offered by the Nordic market to international investors has become less attractive, the bank noted.
Consequently Vie Sundal expects investors to turn more selective and issuers may have to pay a higher price to attract financing. The strategist is forecasting Nordic high-yield credit spreads to increase by 80 to 90 basis points on average over the next 12 months.
Nordic high-yield fund flows (NOK, million)
FY 2017
YTD 2018
Norway: High-Yield -- Nordic mandates
3,469
4,198
Sweden: High-Yield/Crossover -- Nordic mandates
21,814
7,863
Finland: High-Yield -- European mandates
-1,538
-4,725
Denmark: High-Yield -- International mandates
-24,187
-10,002
Source: DNB Markets
While the near-term outlook for issuance may have cooled, a resurgence of both oil-related transactions and private equity activity has ensured a steady flow of deals from Nordic firms so far this year.
High-yield bond sales in the region have totaled 74 billion Norwegian kroner year to date, which is comparable to the 79 billion Norwegian kroner for the same period of 2017, according to Pareto Securities AS.
"We have seen a lot of deals coming out of Sweden, Finland and Denmark from a variety of different industries," said Inge Edvardsen, head of bond sales at Oslo-based Pareto, which has worked on 17 high-yield transactions in September.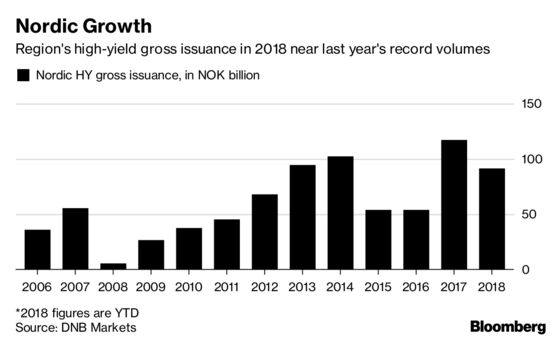 Oil services providers Floatel International Ltd and Atlantica Tender Drilling Ltd are among issuers marketing deals this month, adding to an increasingly diverse pool of borrowers that includes airline operator Wow Air hf, shipping firm Teekay LNG Partners LP, real estate company Offentliga Hus i Norden AB and renewable energy service provider Ziton A/S.
"The new financing provides the necessary flexibility for continued investments and growth while significantly reducing the total cost of funding," Ziton's chief executive officer Thorsten Jalk told reNEWS after the company priced a 125 million euro two-part bond offering.
To access the Nordic currencies new-issue bond monitor click here
But even though the issuance market is open for business, investors remain cautious and will be wary of nursing losses on the scale of companies such as Lebara Group BV. The mobile operator's 350 million euros of bonds, which were sold at par in 2017 to finance its buyout by funds controlled by the investment firm Palmarium AG, have dropped to about 55 euro cents after a series of management departures and missed deadlines for publishing audited accounts.
"Lebara and other under-performing bonds definitely influence investor sentiment," said Pareto's Edvardsen, who added that investors have become very selective.