Nordea's Bonus Pool Slumps 31%
(Bloomberg) -- Casper von Koskull, the chief executive officer of Nordea Bank Abp, says he has no intention of becoming a market leader when it comes to offering the fattest pay packages to entice talent.
The comments come as the biggest Nordic lender revealed that the amount of money it set aside to pay bonuses to its employees slumped 31 percent last year. While Nordea says the development was mainly driven by a weak performance at its capital markets unit, von Koskull says there's no plan to shift gears on remuneration.
"We want to be competitive, but not market leading in our compensation," von Koskull said in an interview on Wednesday, after the bank published fourth-quarter results that missed estimates. "I think that's what we have been and will be also going forward.''
Nordea's handling of pay should be viewed against the backdrop of a bank that's taking drastic steps to cut costs. It's outpacing many of its competitors when it comes to relying less on humans and more on automation. Nordea's fourth-quarter results showed its headcount fell by about 1,400 people from a year earlier, when it announced plans to cut 6,000 jobs.
The Nordea CEO, who stunned much of the banking community with his 2017 prediction that the financial industry will probably have half as many workers in a decade, has set himself a target of cutting costs by 7 percent between 2017 and 2021.
Read More: Nordea Ranks Worst Among Swedish Mortgage, Savings Customers
But even after 2021, von Koskull says he wants to continue looking for places to reduce expenditure. The 58-year-old is under a lot of pressure. Shortly after Nordea published its annual results on Wednesday, the bank was berated by activist shareholder Cevian Capital, whose co-founder Christer Gardell said profits were "way too low" and warned that he expected to see the bank "significantly step up" its efforts to improve returns.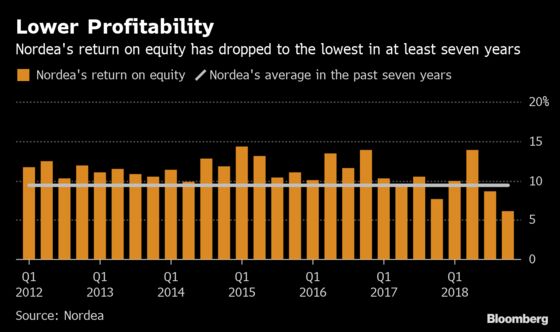 Von Koskull says his goals are "aligned" with those of Cevian and with the bank's biggest shareholder, Sampo Oyj, which has also demanded that management do more to squeeze out bigger profits.
But not all cost cuts are equal and the Nordea CEO says he's aware there are risks.
"I review cost targets all the time, revise them," he said. "I need to get that balance right" to make sure that the measures don't hurt revenue.
Nordea's profit in the fourth quarter fell 22 percent from a year earlier, which was a bigger drop than analysts had expected. Total revenue fell 6 percent. Von Koskull says he's now "intensifying efforts" to make sure revenue grows amid an environment of continual rationalization.
When cuts are as drastic as those being pushed through by Nordea, employee morale can sometimes become a risk. Last year, the bank lost a number of its top sell-side bankers, with some of them publicly voicing their disenchantment with the atmosphere at the bank.
Erik Nordenskjold, who until August 2018 was an investment strategist at Nordea in Stockholm, said back then that highly experienced people are leaving because of the "stress" caused by the focus on retrenching.
Nordea said at the time that it was doing what it can to ensure employees aren't unsettled by the prospect of mass job cuts.
Von Koskull said he only sees a risk to revenue generation from continued cost cuts "if you do the wrong ones."
"There are many elements where you can reduce costs structurally, but actually even improve your revenue generation capability, if you simplify the bank, if you take out complexity of a bank, that will reduce costs structurally," he said. "And that will actually make it easier to customers. Some cost cuts actually can improve revenue."