Nordea Investor Complaints Show How Much Trouble Bank Is In
(Bloomberg) -- After years of severe cuts, Nordea Bank Abp is now losing revenue faster than it's reducing costs.
The bank's biggest shareholder, Sampo Oyj, is trying to be patient. "Nordea is an oil tanker. It turns slowly," Kari Stadigh, chief executive officer of Sampo, said in an interview in Helsinki.
But it's also clear that "Nordea has some key performance indicators that don't meet its Nordic peers," according to the 64-year-old, who spoke out as he prepares to retire from the role.
Last week, Nordea's commanding ranks were shaken up. Bjorn Wahlroos, who once quipped that "80 percent of people are idiots" because of their alleged lack of financial acumen, is stepping down as Nordea chairman after presiding over years of deteriorating metrics. He's being replaced by Torbjorn Magnusson, who has run the Nordic region's biggest non-life insurer, If, since 2002. Wahlroos will, however, stay on as chairman of Sampo.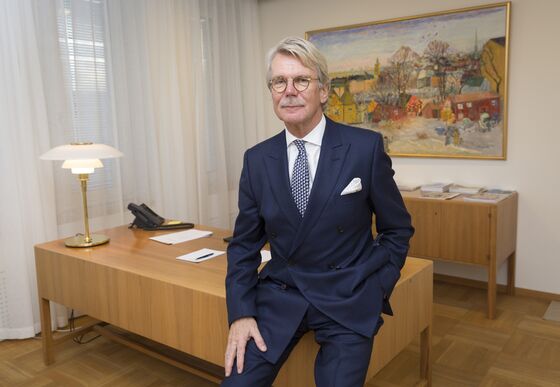 The list of disappointments in Nordea is long. The bank has lost market share in some key areas and customer satisfaction in Sweden and Denmark is among the lowest in the industry.
The development has coincided with Nordea's plans to ax 6,000 jobs and automate as many services as possible, a project that has sucked up resources and made it harder to chase growth. The bank's decision to move its headquarters to Helsinki from Stockholm last year also angered customers in Sweden.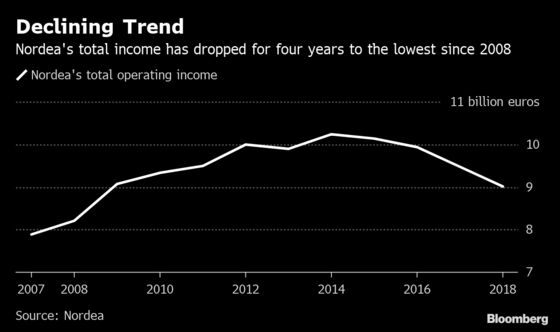 Last week, Nordea disappointed its investors once again when it reported its annual results. Christer Gardell, co-founder of Cevian Capital, said the bank's profits were "way too low."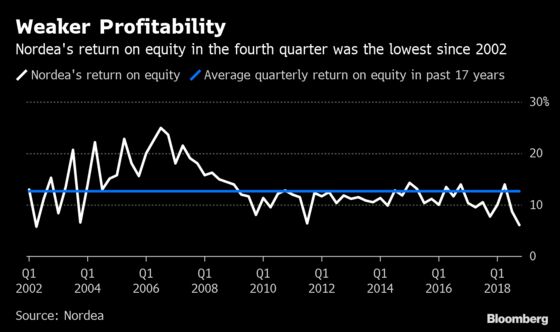 Stadigh says that Sampo, which owns more than a fifth of Nordea, wants to start seeing the bank outperform its peers both on return on equity and customer satisfaction.
Wahlroos says he's "not unconditionally happy" with how Nordea is being run. But he says he's hopeful things will improve once its digital project starts to yield results. "I'm virtually sure that we'll get income up," he said in an interview.
Read More: Wahlroos says Nordea's biggest potential lies in retail market
Not everyone shares Wahlroos's optimism.
"Nordea is making promises, but markets are skeptical after disappointments," said Antti Saari, an analyst at OP Corporate Bank in Helsinki. He even thinks the situation may pose a threat to the future of Nordea's current management team, which is led by Chief Executive Officer Casper von Koskull.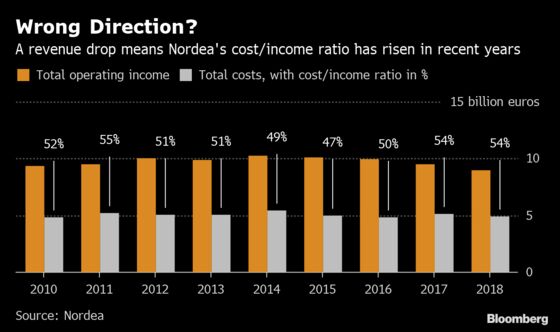 Magnusson, the new Nordea chairman, last week expressed his confidence in von Koskull's ability to keep running the bank, calling him a "fantastic" and "strong" leader. In an interview with Dagens Industri, Magnusson said he expects Nordea will "surprise the world in a very positive way in the medium term" and that the goal now is to "focus on revenues and clients."
But according to Saari, investors are right to criticize the bank and its management.
"The acute problem is that revenues are falling faster than costs," he said. "They need to stop revenues from falling and start defending market share, retaining clients and even seeking growth."