Nordea CEO Says He's `Not Satisfied' With Income Development
(Bloomberg) -- Nordea Bank Abp reported profit for the third quarter that fell short of analysts' expectations as the Nordic region's biggest lender characterized the period as "challenging" and said it wasn't satisfied with the development in its top line.
Net income fell 18 percent to 684 million euros ($785 million) in the three months through September, Nordea said on Wednesday. That missed the 717 million-euro estimate provided by analysts. Shares in the bank opened more than 3 percent lower in Stockholm, where the bulk of the stock is traded, and were down about 1.5 percent as of 9:17 a.m. in the Swedish capital.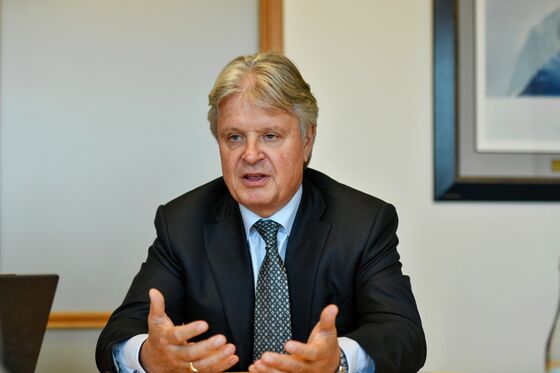 Simon Madsen, an analyst at Jyske Bank, said "the major disappointment is in fees and trading, where the wholesale banking division is experiencing issues from seasonality, low customer activity and intense competition." But on costs, the bank is "delivering," he said.
Click here for a full overview of Nordea's 3Q numbers
Chief Executive Officer Casper von Koskull described the third quarter as "challenging."
"We are not satisfied with the revenue development," he said.
While net interest income was "stable," von Koskull said "fees and commission and specifically net fair value were weak, mainly due to difficult market conditions and lower corporate activity."
Still, management was pleased with Nordea's performance on costs and credit quality, and von Koskull described capital ratios as being at "an all-time high."
In an interview with Bloomberg Television, von Koskull said the third-quarter is traditionally weaker for Nordea and that he feels the bank is still well positioned to benefit from all the efforts made to cut costs and improve efficiency.
Moving Headquarters
This month, Nordea moved its headquarters out of Stockholm and into the euro zone, becoming the European banking union's eighth global systemically important bank. From its new base in Helsinki, Nordea says it anticipates a more predictable regulatory environment allowing it to better manage costs.
Its efforts to save money have led Nordea further down the path toward automation than most, and von Koskull is in the process of cutting 6,000 jobs to create a more digital bank. That's in addition to selling assets in Luxembourg, the Baltics and Russia, as part of efforts to reduce risk. The CEO said on Wednesday that Nordea is ahead of target on its plan to cut jobs and that he sees no need to adjust the program of reductions.