Nordea Slammed by Activist Investor for Poor Results
(Bloomberg) -- The chief executive officer of Nordea Bank Abp, Casper von Koskull, defended management's efforts to cut costs and improve revenue amid a dressing-down from an activist investor who criticized the lack of profit growth.
Net income for the quarter came in about 5 percent below market expectations, though the bank's net interest income was slightly better than analysts had anticipated.
For Christer Gardell, co-founder of Cevian Capital, the result wasn't good enough. In an email on Wednesday, he said Nordea's profit was "way too low" and warned that the bank needs to "significantly step up" its efforts to improve results before the investor will be happy. Cevian holds about 2.3 percent of Nordea, according to the latest regulatory filings.
Shares in the biggest Nordic bank fell about 2 percent shortly after the market opened in Stockholm, where most of the trading in Helsinki-based Nordea takes place. The move made it one of the day's worst performing banks in Europe.
Von Koskull acknowledged that the results are "not where we want them to be," in connection with Nordea's annual report on Wednesday.
The CEO said the bank is now "intensifying efforts" to drive revenue growth despite the "challenging environment."
Roy Tilley, an analyst at Arctic Securities, said "It's positive that there is growth, but it's not very exciting. We hope that it will improve in 2019." He described Nordea's results as "mixed" overall.
Nordea struggled with a difficult household lending market last year that put pressure on margins, and faced "pressure on savings and market making revenues," von Koskull said.
"Towards the end of the year, margins stabilized, but the difficult market conditions in the fourth quarter further impacted our asset management and net fair value revenues negatively," he said.
Nordea is taking more drastic steps than many of its competitors to rely less on humans and more on automation in an effort to cut costs and streamline its services. Von Koskull stunned much of the banking community back in 2017, when he predicted the financial industry will probably have half as many workers in a decade.
The bank is "delivering on the cost efficiency plans," he said on Wednesday. "We are prepared to manage the bank successfully through the cycle." Von Koskull said expenses will continue to come down in 2019 and that management is "continuously" looking at the bank's cost base.
Read More: Handelsbanken also reported results on Wednesday
Nordea has faced repeated criticism from Cevian since the investor revealed its stake late last year. Last month, Cevian urged Nordea to push through its cuts "quickly." At the end of 2018, it went as far as to say that the bank has "no valid excuses" for not being more profitable.
Read More: Cevian's Gardell Says Nordea 4Q Results 'Way too Low'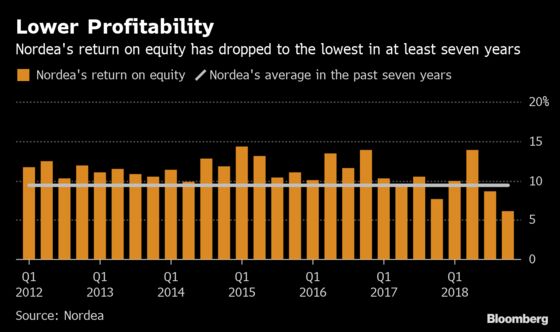 Meanwhile, the bank has been tainted by scandals relating to allegations of potential money laundering and of helping rich clients avoid taxes. Nordea has said it's cooperating with the relevant authorities and points out that it's raised spending considerably on compliance measures.
Shares in Nordea sank 25 percent last year, but have gained about 10 percent so far in 2019.