Non-'Davosian' Stars Roll Out a Red Market Carpet: Taking Stock
(Bloomberg) -- So if Tuesday's market action told you anything, it was that China mattered (and the shutdown too), but not so much for the growth figures that on their face posed worrying signs (yes, metals companies linked to growth like FCX, AA, CLF, X did lag). If James Carville were to run political opposition operations today, "It's trade, stupid" would surely be atop the list of potential catch phrases.
Some of the top takeaways from Davos Day 1 included those very themes, including comments from BlackRock's Philipp Hildebrand, who called U.S.-China clash the top "meta risk" facing the global economy. Agriculture giant Cargill's CEO also said in an interview that the U.S.-China trade war is "very damaging" for the U.S. Ag peer Bunge lowered its forecast not much later in the day, citing a shortfall in its agribusiness, "largely due to the reduction in value of the Company's Brazilian soybean ownership as factors related to China trade and demand caused Brazilian prices to converge with U.S. prices."
The daily reports over the status of trade negotiations (positive on Friday to worrying over IP theft over the weekend to a purported cancelled meeting Tuesday) are bound to keep the S&P 500 from reaching escape velocity. Industrials stocks, considered as tradeable proxies in the trade saga, were among the worst performing sectors Tuesday, while the Philadelphia Semiconductor Index closed the day with all members in the red.
But, the good news for the bulls is, we didn't gap lower following the growth reports from the IMF and China. And Goldman Sachs Chief Economist Jan Hatzius wrote in a note earlier this week that the most frequent causes of recessions are less threatening than they've been before. "Structurally less recession-prone today," as he put it, citing only fiscal tightening and financial imbalances/asset price crashes as the biggest remaining risks for recession triggers among the five most often cited. Blackstone's Schwarzman too, threw cold water on the prospects for a recession in 2019 in his comments at Davos.
Instead, it was the dearth of good news, combined with lower than recent average volume coming off the holiday weekend that allowed the market to drift lower as the stars aligned.
President Donald Trump's top economic adviser Larry Kudlow put the market's cares on display late in the day when he disputed an FT report that U.S. officials canceled preparatory talks with a pair of Chinese ministers. The S&P popped 10 handles on his comments, a sign that at least some of the pessimism over the lack of progress was being priced in. He also couldn't resist applauding the Fed's "patience", a nod at the market's (and Administration's) addiction to (or just need for) low interest rates. That concept was echoed by Bridgewater's Dalio earlier in the day as rationale for some of the market's woes.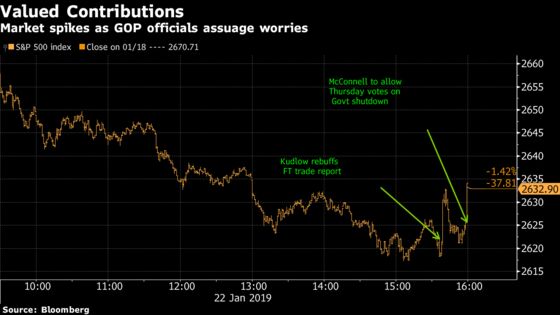 The response, however, to Senate Majority Leader Mitch McConnell allowing a Senate vote on bills to re-open the Government got the warmest reception as the S&P spiked into the close, likely as its the problem most likely to be solved in the near term. Futures are up this morning in a likely continuation of the trend. The market has come to the realization that at least some of the Administration's crises have been self-inflicted, and the knowledge that this overhang stands a near-term chance of resolution may ramp up bipartisan support to solve other issues.

A Distinct A'Roma' From the Basement
But from the early going, earnings soured the market Tuesday, as Stanley Black & Decker's results and economic views sank most of the machinery index. It may be safe to say Chip and Joanna Gaines' departure from TV was not entirely responsible for the tool maker's lower forecast, but home improvement peers Fortune Brands Home & Security Inc. and Masco Corp. did fall as SWK cited the fact that it was "no secret that the construction markets in the United States have slowed." This comes after disappointing Sherwin-Williams earnings last week. Real estate services firms Redfin, Reology and Zillow were all among some of the biggest losers on the day, down more than 7% (new home sales data also disapppointed)
BofAML economist Michelle Meyer wasn't as dire in her analysis, writing that the challenges facing the sector "should only be a slight drag on growth."
IBM's results post market (its "cleanest quarter in years", according to Morgan Stanley's Huberty), in way hammered home the impact China issues are having on markets. IBM CFO Kavanaugh made it a point to specify the Asian nation's true impact in their discussion of results. He said China represented a "low single digit" percentage of revenue for the firm. Shares were up more than 7.5% post market at one point.
Big Blue is no stranger to large moves, but with the exception of the third quarter 2017, this upside move may constitute its largest since the fourth quarter of 2008. Shares are down 27% from Jan. 2018 highs as of Tuesday's close.
Another large tech bellwether, Texas Instruments, is due to report later Wednesday and was among the top 10 losers in technology Tuesday amid the selloff. It also got hit hard with its last quarterly results, down more than 8% in the day after earnings. See our preview here. Lam Research, a manufacturer of semiconductor processing equipment, will also report post market (its European peer, ASML Holding NV missed expectations in results earlier Wednesday)
Credit cards after Capital One missed the lowest analyst estimate (Nomura called the results "confidence shaking"), following in peer American Express's footsteps with weaker than expected results. Private label credit card provider Synchrony Financial followed this morning and beat the highest EPS estimate.
Online brokers after TD Ameritrade and Interactive Brokers reported divergent results; the former with a beat on the top and bottom line while the latter posted a miss. E*trade is expected to report on Thursday
Frackers CJ, FTSI, LBRT and FRAC after ProPetro Holding rose in the post-market on prelim revenue outlook above estimates. Peer RPC Inc. missed on the top and bottom line this morning
Rubber, chemicals suppliers after Trinseo cited lower China demand for its profit warning. Shares fell 10% post market. Watch GT, CTB, CE, BWA, LYB, OMN
Packagers after RPC Group (finally) agrees to takeover by Apollo. Despite the concept being batted around for months, shares are up 5.5% in London. U.S.-based packagers to watch include BERY, SLGN, GEF, GPK
Consumer staples companies after PG and KMB report results. We'll see if PG can replicate its nearly 9% post earnings jump from last quarter, with some analysts expecting the buy side consensus for 2Q organic sales growth near ~3%. They just raised their forecast for organic sales
Morgan Stanley is out on a call on the hardlines/broadlines for 2019, raising Walmart, cutting Williams-Sonoma, and adjusting targets for names such as Vitamin Shoppe, Wayfair, GNC Holdings and BJ's Wholesale. Simeon Gutman sees headwinds for the segment, which include moderating consumer spending, trade uncertainty and falling gross margins. Notes tax reform last year served to "mask these issues." Expects DIY auto parts to continue to outperform given their defensive and acyclical nature.
Bernstein also discusses broadline and hardline retail names, including BBY, HD, LOW and TSCO. Prefers LOW and TSCO, citing "low competitive intensity" and their efforts on cost control.
Tesla got another downgrade, with 40% of the Street now holding the equivalent of a sell rating on the electric vehicle maker, according to data compiled by Bloomberg. RBC's Joseph Spak is expecting downward pressure on growth expectations which gives him pause in justifying current valuation. Notes that even in the most optimistic of scenarios, nearly 1/3 of the price must still be considered an "Elon premium" alone.
Tick-by-Tick Guide to Today's Actionable Events
8:30am -- CMCSA earnings call
8:30am -- PG earnings call
8:30am -- UTX earnings call
8:30am -- AMTD earnings call
9:00am -- Nov. FHFA House Price Index 9am
10:00am -- Richmond Fed Manufacturing
4:00pm -- TXN, CP earnings
4:05pm -- LRCX earnings
4:15pm -- F earnings
4:30pm -- TXN earnings call
4:30pm -- CP earnings call
5:00pm -- LRCX earnings call
5:30pm -- F earnings call