Nomura Sticks to Global Goals After $2.9 Billion Archegos Hit
(Bloomberg) -- Nomura Holdings Inc. is pushing ahead with its global ambitions, unswayed by a $2.9 billion hit from the implosion of Archegos Capital Management.
Chief Executive Officer Kentaro Okuda -- in a surprise appearance at Tuesday's earnings briefing -- signaled he will persist with plans to build a presence in the U.S. even after the Archegos meltdown led to the Japanese firm's biggest quarterly loss since 2009.
"There is no major change to our overall strategy for our wholesale business," Okuda said. "Our Japanese clients' interest in overseas markets is very strong and they are looking at the U.S. market. It's important to build a solid platform in the U.S."
The remarks underscore Nomura's long-standing ambitions to succeed in the U.S., home to the biggest banking fee pool, to stave off stagnation in Japan. To help with the push, Okuda named Wall Street veteran Christopher Willcox as co-head of its troubled Americas unit and pledged to add more non-Japanese outside directors.
"They need to keep a certain degree of market share abroad to stabilize their business further as it's hard to expect the domestic market will grow," said Toshihiro Matsuo, an analyst at S&P Global Ratings. "Nomura's management probably find it essential to move ahead with business diversification."
Part of that plan is to bolster risk management, with only Credit Suisse Group AG suffering a bigger hit -- $5.5 billion -- from dealings with Bill Hwang's family office. Nomura said it has hired a law firm to conduct a review and has put in place "a number of remedial measures."
The firm has suspended prime broking head Dougal Brech, the Financial Times reported. It's also asking third-party experts to look at its risk management framework for the wholesale business, and will strengthen global risk controls, a company presentation showed.
"We have caused grave concerns to our stakeholders, including investors and clients," Okuda said.
The episode adds to a list of stumbles at Japan's biggest brokerage, particularly abroad. Most notably, it took years for Nomura to recover from its ill-fated purchase of Lehman Brothers Holdings Inc. businesses in 2008.
"They are calling the latest losses a special case, but when you look at their history, there have been many hits," such as the Lehman deal, said Shin Tamura, a Bloomberg Intelligence analyst. "Your risk management ability gets tested when you're hit by something beyond your imagination."
Nomura's losses tied to Archegos exceed the $2 billion it flagged a month ago. Of the total, it logged 245.7 billion yen ($2.3 billion) in the three months ended March 31, leading to a quarterly net loss of 155.4 billion yen, its biggest since the global financial crisis. The remaining 62 billion yen will be booked in the current fiscal year.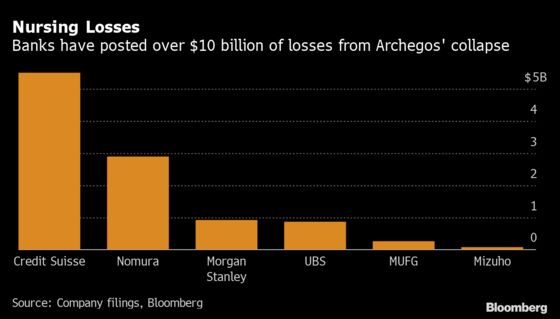 Other financial firms were also hurt by the blowup, which saw almost $20 billion vanish from Hwang's family office in two days after it piled up leveraged bets on stocks. UBS Group AG posted an unexpected $861 million hit on Tuesday. Morgan Stanley lost $911 million, and Mitsubishi UFJ Financial Group Inc. has flagged a $270 million charge.
Aside from Archegos, Nomura has benefited from a boom in trading and investment banking over the past year as the pandemic upended markets and industries. It remained profitable last fiscal year, with net income totaling 153.1 billion yen, down 29% from a year earlier.
Nomura's financial health remains unshaken, Chief Financial Officer Takumi Kitamura said. The company also completed a multi-year cost-cutting initiative a year ahead of schedule, he said. And unlike Credit Suisse, it didn't need to raise cash from investors because it still has large capital buffers.
Willcox, a former head of JPMorgan Chase & Co.'s asset management arm, vowed in a statement to "continue the focus on building our Americas business." Attracting and retaining talent will be key to that goal, he said.
That might be the right choice, according to Michael Makdad, an analyst at Morningstar Inc. in Tokyo.
"In terms of building up brand reputation in a market, it's better to stay there for decades and become known than to downsize or pull out and then later try to return," he said.