Nomura Warns of 'Significant' Loss From Unnamed U.S. Client
(Bloomberg) -- Nomura Holdings Inc. said it may have incurred a "significant" loss arising from transactions with a U.S. client, sending its stock tumbling the most in more than nine years.
The estimated amount of the claim against the client is about $2 billion based on market prices as of March 26, the Japanese brokerage said in a statement on Monday. It didn't name the customer.
Nomura is evaluating the extent of the possible loss and the impact it could have on the group's results. The Tokyo-based firm also canceled plans to sell dollar-denominated bonds.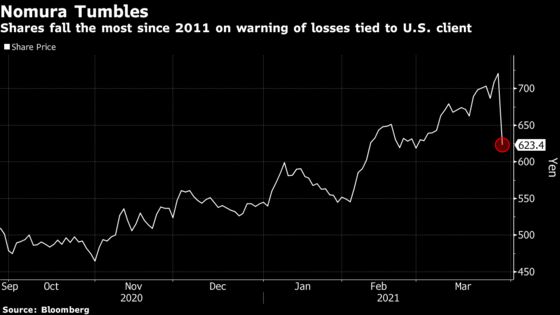 While the Nikkei newspaper reported that the losses arose at its U.S. prime brokerage, it wasn't immediately clear whether they were tied to the massive margin call that roiled U.S. markets on Friday. Archegos Capital Management, the family office of former Tiger Management trader Bill Hwang, was forced by its banks to sell more than $20 billion worth of shares after some positions moved against him, Bloomberg reported.
Shares of Nomura fell as much as 15% on Monday morning in Tokyo, the biggest intraday decline since November 2011. The stock has climbed 29% in the past 12 months.
The potential loss would blemish a bumper year for Japan's biggest securities firm, which has benefited from a boom in trading and investment banking during the pandemic. Nomura's profit jumped to the highest in 19 years in the nine months ended December.
Nomura said the estimate of the claim against the client may change depending on unwinding of the transactions and market price fluctuations. It will continue to take steps to address the issue and make a further disclosure once the impact of the potential loss has been determined.