Nomura's New CEO Set to Unveil Strategy to Stabilize Profit
(Bloomberg) -- Nomura Holdings Inc.'s new chief executive officer is set to unveil his strategy for Japan's biggest brokerage on Tuesday, as the firm comes under renewed market scrutiny after posting losses caused by the coronavirus pandemic.
Kentaro Okuda may redouble his predecessor's efforts to reduce the firm's reliance on trading and shift it toward more stable earnings drivers such as advice to companies and wealthy Japanese individuals. The impetus for doing so was made clear during last quarter's market turmoil, when writedowns on loans and investments led to Nomura's first loss in five quarters.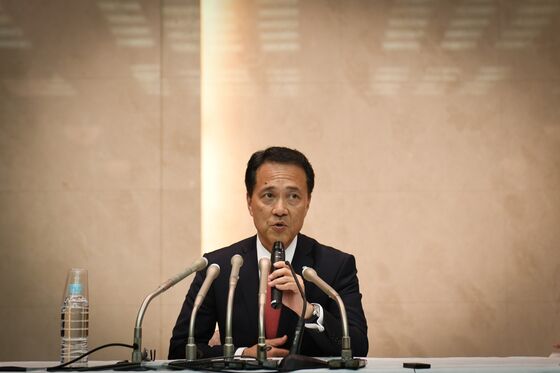 "The market was particularly volatile in March because of the coronavirus problems, so the losses were probably inevitable," said Kaori Nishizawa, an analyst at Fitch Ratings in Tokyo. Nevertheless, "Nomura is still quite susceptible to market volatility -- its profit isn't stable."
Okuda's strategy is likely to include working more with privately held companies and stepping up advice in areas such as ESG initiatives, according to introductory remarks he made last month. Nomura is hoping the new focus will unlock more deals with unlisted Japanese firms, the Financial Times reported earlier this week. The new CEO may also address how to revive the struggling domestic retail franchise at a time when Japan's recession is deepening.
Below is a series of charts illustrating Okuda's challenge, as he prepares to give a presentation to investors in Tokyo on Tuesday.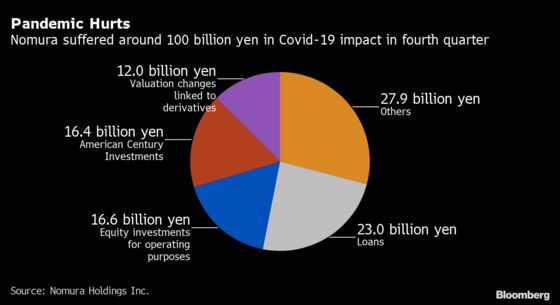 Okuda, 56, may face pressure to address Nomura's appetite for risk after it booked large impairment losses last quarter, including on leveraged loans that it was forced to mark to market. An increase in risk-weighted assets caused Nomura's capital buffers to drop.
"Reducing loan positions can be one option if they want to make themselves more tolerant of market volatility and stabilize profit," said Toshihiro Matsuo, an analyst at S&P Global Ratings. "But those loans are being extended as part of wholesale business, such as bridge financing for clients seeking mergers, so if they choose that option that could cause their wholesale business to shrink."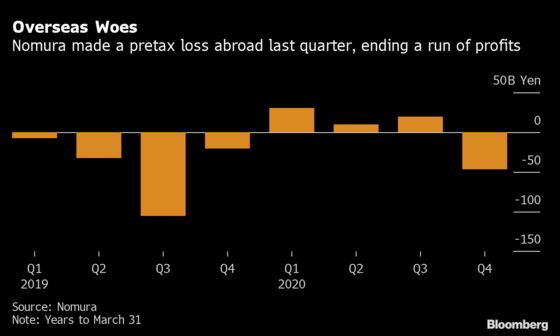 Nomura lost money abroad last quarter for the first time in a year, dashing hopes that the firm's overseas woes have ended. While analysts have lauded a cost-cutting program introduced by then-CEO Koji Nagai last year, Okuda may have to expand on that, according to Bloomberg Intelligence.
"We believe further cost reduction is needed to stabilize and boost its earnings, while weak and volatile markets in Europe may hinder Nomura's profit recovery," Shin Tamura, a senior analyst at Bloomberg Intelligence, wrote recently.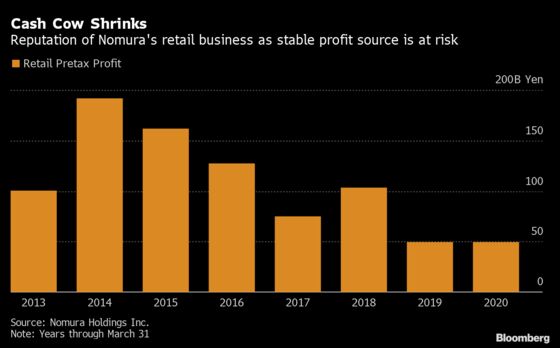 Nomura has troubles at home, too. The coronavirus has tested the company's dependence on face-to-face services after it was forced to suspend operations at branches during a state of emergency to quell the outbreak.
The firm's retail client base is aging and it faces intensifying competition for a new generation of customers who are flocking to cheaper online rivals that don't run costly outlets. Nomura has already been cutting branches as part of its one-year-old restructuring program.
"The fundamental question is whether it's fine to leave the retail business model unchanged in the face of Japan's structural changes posed by the aging and shrinking population," Nishizawa said. "Where will they make money?"