Nomura Top Executives Forgo Bonuses as Profit Almost Erased
(Bloomberg) -- Nomura Holdings Inc.'s deteriorating earnings have spurred the company to embark on $1 billion of expense cuts, costing traders and bankers from Singapore to New York their jobs. Now its top executives are sharing the pain.
In a rare move for Japan's largest securities firm, bonuses of about 60 executives, including senior managing directors, will be scrapped, Nomura said after reporting quarterly earnings on Thursday. The hit to the paychecks came as fourth-quarter profit plummeted 96 percent from a year earlier.
Even as competitors UBS Group AG, Barclays Plc and Credit Suisse Group AG managed to deliver some positive earnings surprises, most of Nomura's businesses slumped in the quarter, including the domestic retail brokerage. The string of bad news over the past few months has been enough to raise questions about whether the 94-year-old firm might be acquired, a notion Chief Executive Officer Koji Nagai has sought to debunk.
Nomura's global markets revenue plunged 37 percent in the quarter from a year earlier, a steeper trading drop than at all its main U.S. and European rivals that have reported so far.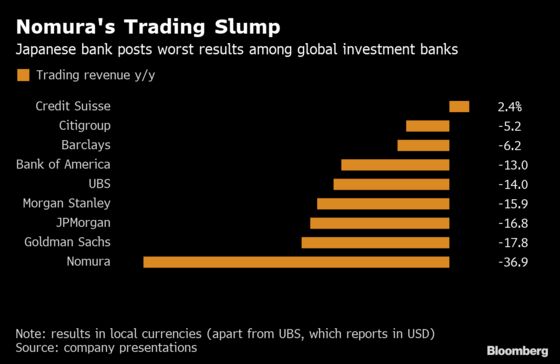 Nagai this month announced a three-year cost cutting plan aimed at returning Nomura's overseas operations to profit and revamping its mainstay domestic consumer business. Analysts are now looking for more clues on how the firm will boost revenue after cutting more than 100 trading jobs overseas.
"It may take time but we think they can recover a certain level of profitability in the years down the road,'' Hideyasu Ban, senior research analyst at CLSA Ltd. in Tokyo, said on Bloomberg Television before the earnings announcement.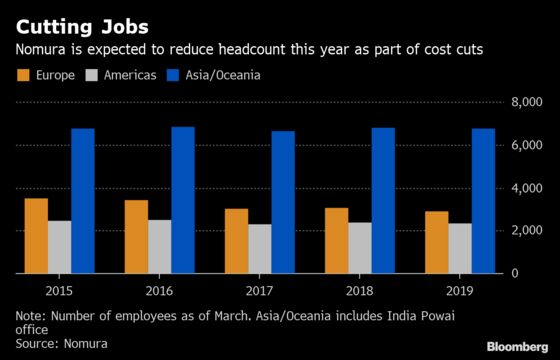 Nomura's retail segment posted an 85 percent drop in pretax income last quarter from a year earlier as individual investor sentiment remained weak despite a modest stock market rebound in Japan. That division had until now been a bulwark that in part shielded the firm from persistent losses overseas.
The wholesale division -- which includes global markets and investment banking -- posted a pretax loss partly because of a one-time charge related to a revision of a business portfolio. Fixed income and equities revenue fell from a year earlier. Overseas operations lost money for a fifth straight quarter.
Read More
Nomura Leads Investment-Bank Slump Amid Slight European Recovery
Nomura CEO Vows to Stay Independent, Swiftly Implement Cost Cuts    
Diverging Fortunes of Nomura, Deutsche Bank, U.S. Peer in Charts
Nomura Sinks Faster Than Deutsche Bank as Shareholders Flee
Nomura's Tumultuous Decade of Overseas Setbacks: Timeline
Daiwa Securities Group Inc. also struggled, with profit falling for a fourth straight quarter on continued weakness in its retail business. Japan's second-largest securities firm is reviewing its costs and will make an announcement when it decides any action, Chief Financial Officer Eiji Sato told reporters. He said last fiscal year was the toughest since Prime Minister Shinzo Abe took office promising to revive the economy more than six years ago.
Nomura's revival strategy centers on cutting $1 billion of annual expenses from its wholesale business by March 2022. Nagai also intends to trim retail business costs by around 30 billion yen over the same period partly by reducing branches in Japan.
What Bloomberg Intelligence Says

Nomura's earnings for fiscal 2020 could beat consensus estimates if its new cost and revenue plans succeed, we calculate. Its $1 billion budgeted savings in wholesale banking will likely matter more than revenue initiatives and retail cost cuts.
Francis Chan, bank analyst
Click here to view the research
Shares of Nomura closed 0.2 percent lower in Tokyo before the results were announced. The stock has fallen 35 percent in the past year, leaving it trading at about half the book value of its assets. Still, Nagai doused any speculation he might consider mergers as a solution to the firm's woes by pledging to keep it independent in an interview last week.
Revenue fell 2.5 percent last quarter from a year earlier
Investment banking fees rose 12 percent
Brokerage commissions slid 31 percent
Overseas pretax loss totaled 20.5 billion yen