Nomura Loss Brings Underperforming European Business Into Focus
(Bloomberg) -- Nomura Holdings Inc.'s underperforming European business, which saw wider losses in the fiscal second quarter, may be about to face another reckoning.
Chief Financial Officer Takumi Kitamura told reporters in Tokyo on Wednesday that he intends to bring the European unit to "an appropriate size," after those operations lost 11.6 billion yen ($102 million) in the three months ended September. Japan's biggest brokerage posted a rare net loss, as revenue at the retail and wholesale businesses declined from a year earlier.
Dealing with Europe, where Nomura has struggled since buying Lehman Brothers Holdings Inc. assets 10 years ago, is taking on added urgency as its mainstay domestic retail business flags. The firm's stronghold on its home market over the past decade had allowed Chief Executive Officer Koji Nagai, 59, to keep pursuing an overseas expansion despite the failure to produce sustained profits.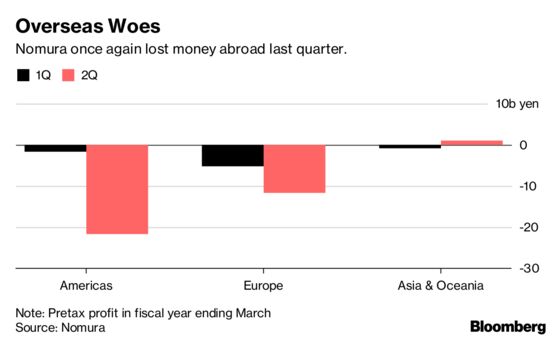 Nomura also lost money in the U.S. in the quarter, though that was mainly due to a 19.8 billion yen expense booked as part of a payment to settle a mortgage bond probe stemming from activities before the 2008 financial crisis. Overall pretax losses from abroad totaled 32.2 billion yen, making it tough for Nagai to bring overseas operations back to profit for the full fiscal year.
Kitamura said the firm will continue to redistribute resources away from Europe to the Americas, where profitability is better. "We intend to bring our European businesses slightly to an appropriate size and achieve a balance in terms of manpower, resources and capital."
Nomura cut hundreds of jobs in Europe in 2016, when it shut much of its stock-trading business. Earlier this year, it let go about 50 workers in London, including some senior traders and business heads.
"They've never really achieved their goal of meaningful expansions overseas," said David Marshall, an analyst with CreditSights Inc. in Singapore. "It's inevitable to pull back from areas where they are not competitive nor have meaningful market share, and focus their resources on the areas that matter to them now."
Shares of Nomura closed 3.5 percent higher before the results. The stock has slid 18 percent this year, more than the benchmark Topix index's 9.4 percent drop.
Nomura's overall net loss totaled 11.2 billion yen, marking the second quarter of red ink in the past seven years. Retail investor sentiment weakened from the previous quarter, Nomura said, even as Japanese stocks rebounded in the period. Prospects for the business may worsen as this month's global equity sell-off risks damping confidence further.
On the wholesale front, one bright sign was a pickup in Japanese fixed-income trading after the central bank's policy tweaks revived activity.
Results Highlights
Revenue fell 3 percent from a year earlier to 448.4 billion yen 
Trading profit dropped 14 percent
Brokerage commissions slid 12 percent
Investment banking fees declined 30 percent