Nomura Faces Possible Rating Cut by Moody's on Profit Woes
(Bloomberg) -- Nomura Holdings Inc. faces a possible credit-rating cut by Moody's Investors Service after it warned of weak earnings prospects for Japan's biggest brokerage.
Moody's changed the outlook on Nomura's credit rating to negative from stable on Thursday, saying the Tokyo-based firm's "weaker and more volatile profitability" could hurt its financial profile. Downward pressure on the rating would arise if Nomura can't improve its profitability without taking on more risk on its balance sheet, Moody's said in a statement.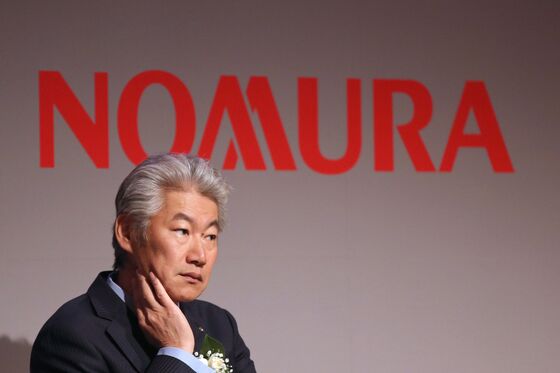 As the Japanese stock market falters and the economy loses steam, Nomura is facing a slump in its domestic retail business that's compounding long-standing woes at its wholesale operations abroad. Chief Executive Officer Koji Nagai is under renewed pressure to turn around its results overseas, particularly in Europe, where the company has lost money in four out of the past five quarters.
Moody's pointed out that Nomura's pretax profit slid 91 percent in the six months ended September, and the wholesale segment made a loss, thanks mostly to its global markets business. It currently has a Baa1 rating on Nomura, the eighth-highest investment grade, following an upward revision four years ago, according to data compiled by Bloomberg. Moody's last cut the assessment in 2012, the data show.