Noble Group Flags Another Loss as Restructuring Costs Mount
(Bloomberg) -- Noble Group Ltd. warned of another quarterly loss, driven by restructuring and finance costs, as the embattled commodity trader moves toward completing a $3.5 billion rescue deal that'll hand control to creditors.
The net loss for the three months to September will be $90 million to $115 million, according to a filing on Monday. It expects to incur restructuring costs of about $35 million, after spending more than $100 million in the first half.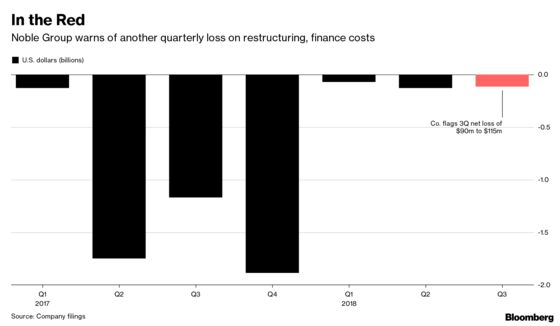 Once Asia's largest commodity trader, Noble Group's crisis has escalated in recent years as losses and defaults mounted. Creditors gather on Nov. 8 to vote on its restructuring plan, which has been approved by shareholders.
In addition to restructuring costs, the company highlighted a loss of $55 million from discontinued operations, including from assets disposed of several years ago as troubles intensified. The figure included a provision for agricultural operations sold in 2014 and 2015, as well as against the oil liquids business.
More than 88 percent of creditors have acceded to the restructuring, Noble said on Monday. The deal, which is due to be completed before the end of the year, will wipe out about half of the trader's debt.
The loss left the company with a negative net asset position of $1.1 billion, it said. Despite "constraints on liquidity and availability of competitive trade finance to support operations," Noble said implementing the debt plan should "restore shareholders' equity and create a sustainable capital structure."
Once worth more than $10 billion, the company now has a market value of less than $80 million. On Tuesday, the stock retreated as much as 7 percent, and traded 5.8 percent lower at 8.1 Singapore cents at 2:39 p.m.
The trader expects third-quarter operating profit before interest, tax and restructuring expenses, but after selling costs, of $20 million to $35 million, aided by the metals business, which includes its Jamalco alumina plant in Jamaica. Prices of alumina have spiked this year on supply concerns.
"The operating profit guided for 3Q is a decline from 2Q," said Neel Gopalakrishnan, a senior credit strategist at DBS Group Holdings Ltd. "Although details are not available, the trend is not positive," he said, adding that investors are likely to focus on the longer-term sustainability of any turnaround after the restructuring.
While Noble continued to execute on contracted flows in the latest period, total volumes -- including offtake and marketing -- were lower than in the first and second quarters as it reduced freight business volumes, the company said.