NMC Founder Loved Challenges. They Ate His Company
When discussing his business philosophy, Indian entrepreneur Bavaguthu Raghuram Shetty likes to stress the importance of embracing challenges — even those you fail to overcome. "Without mistakes you can't learn," the founder of hospital operator NMC Health Plc said in a YouTube video in January. "If I don't have one problem in the office, it's not a good day for me."
By that measure, Shetty has been having a string of really good days lately. Since U.S. short seller Muddy Waters Capital LLC in December alleged fraud at NMC, the company has lost two-thirds of its value. Yesterday, shares of NMC, the largest private health-care company in the United Arab Emirates, were suspended and the company announced it was under investigation by the U.K. markets regulator.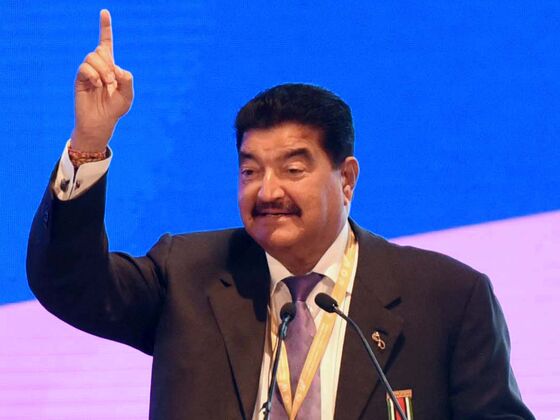 In the last two weeks, five of 11 board members have either been fired or resigned amid a drip-drip-drip of financial improprieties. Shetty himself was out on Feb. 17 after the company said he may have misreported the size of his stake, calling into question who really holds control. Next month, when the FTSE 100 carries out its quarterly recalibration, NMC is almost certain to be dropped from the benchmark index of the biggest companies listed in London.
NMC's problems began in November 2018 when Jefferies Group LLC downgraded its recommendation on the shares to underperform because of concerns on corporate governance. After more critical comments from Jefferies, short sellers piled in. Then on Dec. 17, Muddy Waters published a report alleging the company had overpaid for assets and understated debt. Shares of NMC fell 32% that day, wiping out 1.8 billion pounds ($2.4 billion) in market value. "We just dug in and kept finding issues," said Muddy Waters founder Carson Block.
NMC said the allegations were baseless, but in January the board hired former FBI Director Louis Freeh to investigate. On Thursday, the company released what it called an update from Freeh, revealing supply chain financing arrangements with affiliated companies that the board said it was unaware of. A consortium of investors that included private equity firm KKR & Co. expressed interest in buying the company, then KKR said Feb. 11 it had abandoned the idea.
Representatives for Shetty and NMC declined to comment.
Shetty, 77, is among the best-known foreign entrepreneurs in the Middle East. He moved to Abu Dhabi from India in 1973 and two years later founded NMC — the name stands for New Medical Center — as a small clinic and pharmacy. Seeing a gap in the market for private health care, the business quickly expanded and started distributing medicines to other pharmacies. NMC soon shifted again and began opening hospitals, and today it says it runs more than 200 health-care facilities in 17 countries and treats more than 8 million patients a year.
In the wake of the global financial crisis, Shetty entered into a partnership with Khaleefa Bin Butti and Saeed Bin Butti, who have links to Abu Dhabi's ruling clan. In 2011, the pair paid $1 billion for 40% of NMC. The next year, Khaleefa Bin Butti led NMC's London offering, the first Abu Dhabi company to list its stock in the U.K. capital. The shares jumped almost 20-fold in the next few years, with market capitalization peaking above $10 billion in August 2018. Until recently, the Bin Buttis and Shetty said they held a controlling interest in NMC. The exact size of their stake is now in doubt.
The company's difficulties come at an inopportune moment for the United Arab Emirates, which has seen bad press about its finance industry tarnish efforts to establish itself as a serious hub for global business.
Bankers says NMC's woes will make it harder for other Gulf companies seeking an overseas listing as a way of sidestepping the region's weak markets. And NMC is another black eye for the London Stock Exchange, which has seen its reputation suffer as a string of foreign companies have come under scrutiny in recent years.
"The NMC situation is unfortunately not unique in terms of the type of the governance breaches it has revealed," said Alissa Amico, managing director of Govern, which studies emerging markets. "Unclear share ownership has been of concern to regulators in a number of recent high-profile incidents in the region."
Shetty's challenges don't end with NMC. As the hospital chain prospered and his reputation grew, he put his money — and his name — into a slew of other ventures. Over the years he invested in financial services, and in 2014 bought foreign-exchange trader Travelex Ltd. — though Mirabaud Securities reckons he overpaid by about 20%. In 2018, Shetty put a half-dozen such companies into a holding firm, Finablr Plc, which listed in London last May. On Thursday, Finablr shares fell 18%.
While Shetty faces the prospect of lawsuits from disgruntled shareholders, long-time associates say it's unlikely he intentionally misled investors. Instead, at least four people familiar with him have said, even though virtually all of his experience is in the Middle East, he lacks the kind of financial savvy needed to thrive in the region's business environment.
As Shetty grapples with the fallout from the debacle, he'll have to decide his next steps carefully or he risks losing control of the company he built from the ground up over the past half-century. As he says on his website: "Decide now and pay once; put things off and pay over and over."