NJ Transit Audit Report: Find Money. Cut Fat. Post Cooler Tweets
(Bloomberg) -- A $1.3 million audit of New Jersey Transit ordered by Governor Phil Murphy found an urgent need for more money and less bureaucracy at the troubled commuter bus and train operator.
It also called for bigger social-media laughs -- but not during rush hour, when commuters tend to be steamed. A well-intentioned but ill-timed "Good morning" or "Good night" on Twitter is enough to incite a backlash, according to the audit released today.
The 179-page report identified failures including "inadequate, uncertain and unsustainable" funding, no technology vision and no plan to oversee $5.3 billion in capital assets. In response to vitriol from Facebook and Twitter users -- some whose handles combine curse words and the agency's name -- NJ Transit should forget defending itself and start "sharing entertaining content" such as travel photos, it said.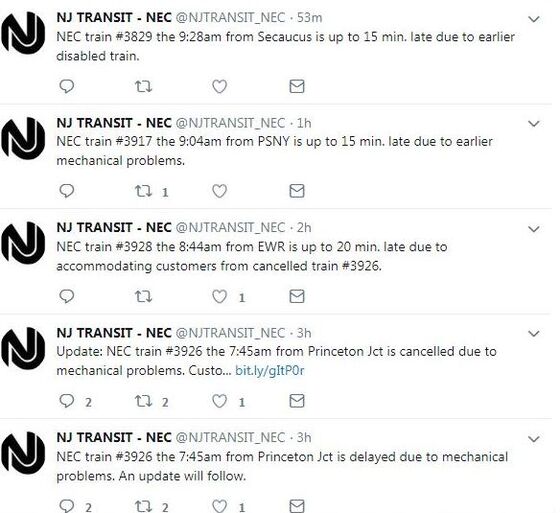 The report didn't suggest fare increases, noting that NJ Transit relies on passengers for 43 percent of operating revenue, the highest among six transportation agencies surveyed, including New York's Metropolitan Transportation Authority. Rather, it cited sales taxes, special fees and other sources that are tapped around the U.S., suggesting those options for New Jersey.
The system's financial need has potential to ignite a war between Murphy and lawmakers in his own Democratic party, with some facing elections next year. Any step toward higher fares will set up a backlash from commuters subjected to two such increases under Murphy's predecessor, only to face increasingly canceled, delayed and crowded trains and buses and, recently, a spate of dangerous New York City-area rail mishaps.
State coffers, stressed by growing pension and benefit obligations, have no wiggle room. The audit, which was conducted from May to October, warned that NJ Transit can't continue to be propped up by gimmicks, including capital-to-operating fund shifts, transfers of New Jersey Turnpike tolls and clean-energy funds -- all maneuvers derided by Murphy, a retired Goldman Sachs Group Inc. senior director, yet included in his $37.4 billion state budget for the fiscal year that started in July.
"NJ Transit is facing the unintended long-term consequences of these actions, which have only increased over time as subsidies continued to erode: a deterioration of its assets, continued schedule and safety problems, and a disillusioned ridership," according to the report by North Highland Co. It was commissioned by Murphy, who came to office in January, to identify how to turn around the agency, whose flailing operations endanger access to New York City jobs.
Murphy on July 1 raised or instituted more than $1 billion in taxes on residents with income above $5 million, corporations, electronic cigarettes, and services by Uber Technologies Inc. and Airbnb Inc. On Oct. 1, he increased the gasoline tax to 41.4 cents per gallon, fifth-highest in the country, citing overly optimistic consumption forecasts that led then-Governor Chris Christie not to touch the rate last year. The gas tax is dedicated to roads and transit.
The audit, promised by Murphy after he replaced term-limited Republican Christie, was billed as a "comprehensive strategic, financial and operational assessment." It called for streamlining the executive ranks, updating hiring practices, closing technology gaps and ending political manipulation of spending that caused long-time workers to leave and turned off potential new hires. Morale, it said, reached bottom, and employees were stung in particular by Murphy's December 2017 comment that the agency was "a national disgrace."
Murphy, at a news conference at the Metuchen NJ Transit station, re-committed to no fare increases through June and said he would discuss funding with lawmakers. Senator Patrick Diegnan, a South Plainfield Democrat who heads his house's transportation committee, said some reforms could be added to earlier NJ Transit legislation that was passed by the Senate and is awaiting an Assembly vote.
Kevin Corbett, the agency's executive director, said the agency is acting on some recommendations already, citing $6,000 hiring bonus for bus drivers and simplified procurement. He had no timeline for all the audit's suggestions, but said they will be put into effect "as quickly and responsibly as possible."
The report shed no light on one of NJ Transit's biggest puzzles: how a $300 million federally mandated braking system, called positive train control, wound up in danger of missing its Dec. 31 due date. The agency is so far behind that it is pulling locomotives out of service for software installations, leading to more crowding and increased delays; has suspended Atlantic City-to-Philadelphia service to deploy equipment elsewhere; and will cut some service on all other lines for three months, with 10 percent fare discounts.
For the agency's social-media team, the audit suggested a new approach on Facebook.
"Overall, between multiple warnings of being safe while crossing light-rail lines and use of jargon such as 'positive train control,' the overall experience is un-engaging and bordering on negative," the report said. The account would do better to solicit riders' travel photos because they will be "less likely to draw negative comments" and will show NJ Transit "celebrating the culture of the state."
The audit warned, though, to go happy only between 11 a.m. and 3 p.m. -- far from rush hour, when commuters are "more likely to lash out." It also cautioned that on Twitter, "Good morning" and "Good night" are "guaranteed to rile customers who aren't having a pleasant commute."
NJ Transit once ran one of the nation's most efficient commuter railroads. Governors from both parties, though, since 1990 have diverted more than $8 billion from capital to operating accounts. Even under Murphy, who decried the practice, NJ Transit in August made a record budget shift of $511 million. The practice helped delay unpopular fare increases, but led to an unreliable fleet, neglected station maintenance and staffing shortfalls.
The railroad now leads peers for federal safety fines and accidents, and it's not unusual for morning and evening commutes to stall for a half-hour or more.
On Oct. 4, a NJ Transit train derailed on Amtrak-owned tracks at New York's Pennsylvania Station. On Sept. 7, two trains lost power in Amtrak's Hudson River tunnel between Manhattan and New Jersey, stranding 1,600 passengers. Crews from both trains reported striking what appeared to be electrical equipment, and one car had its roof pierced by a piece of metal. In each case, no injuries were reported. Investigations are ongoing.