Nissan Deals U.K. Blow at Plant Making Three in 10 Cars
(Bloomberg) -- Nissan Motor Co.'s flagship auto plant in a corner of the U.K. that voted to leave the European Union suffered a blow after executives said they're reining in production at the site.
The factory in Sunderland, which was opened to great fanfare by former Prime Minister Margaret Thatcher in 1986, is Britain's largest with 442,000 cars built last year -- almost a third of total production in the country.
A showcase for automation and modern working practices, the facility in northeast England helped propel Britain to record auto output and sales in 2016, before concerns about the Brexit vote and a government campaign against diesel models began to weigh on demand.
Sunderland's production of the Qashqai, Juke, Leaf and Infiniti models fell 11 percent in 2018, reflecting the wider U.K. slump. Declines have been steepest for diesels like the X-Trail sport utility vehicle that's the subject of the Japanese giant's about-turn.
The decision not to build the auto at a site that employs more than 7,000 people and supports another 28,000 supplier jobs comes as a particular blow after Prime Minister Theresa May's government had previously gone out on a limb to safeguard Nissan's investment in the U.K., making private assurances that led to accusations of back-door deals.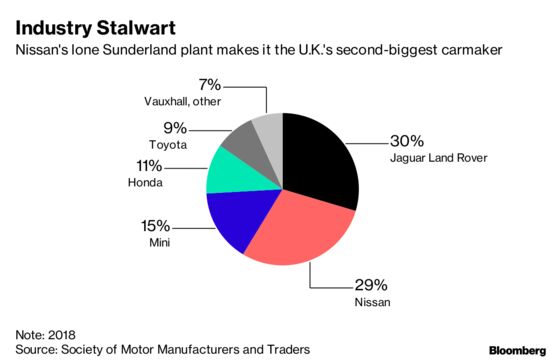 U.K. Business Secretary Greg Clark on Monday released the text of a letter he sent to Nissan in 2016 detailing the government's proposals. He added that 61 million pounds ($80 million) in grants subsequently pledged to the company in June last year "will only be awarded in line with the terms of the offer."
Nissan said it took the decision on the X-Trail for business reasons, with continued uncertainty surrounding future U.K.-European Union relations "not helping." The move follows a 46 percent drop in U.K. auto investments last year as carmakers delayed decisions on upgrading machinery and factories.
Nissan sought to allay concerns of its Sunderland employees, saying it will go ahead with planned spending on the Juke and Qashqai models.