Nissan CEO to Travel to Car Alliance Meeting Amid Tensions
(Bloomberg) -- Hiroto Saikawa, the Nissan CEO who's been thrust into global prominence since the arrest of Carlos Ghosn, is getting his first chance to explain the Japanese carmaker's corporate-governance challenges to its alliance partners face-to-face.
The chief executive officer is traveling to Amsterdam for a meeting starting Tuesday of Nissan Motor Co., Renault SA and Mitsubishi Motors Corp., according to a person familiar with the plan, who asked not to be identified as the information isn't public. The last time the carmakers met -- soon after car titan Ghosn's arrest and ouster as Nissan's chairman in November -- Saikawa, 65, chose to attend the gathering by video.
The CEO will now have a chance to personally give a detailed explanation of the events that led to former Nissan chairman Ghosn's indictment by Japanese prosecutors on allegations he understated his income. Renault, Nissan's largest shareholder and the company that bailed out the Japanese automaker two decades back, sent a letter demanding a meeting of all shareholders to discuss Nissan's governance.
Ghosn's arrest has escalated tensions between the companies, whose alliance has been held together by the iconic car executive for two decades. While Nissan ousted Ghosn, Renault technically kept him on as chairman and CEO while it seeks more information and evidence about the accusations. Ghosn, 64, also remains head of the alliance.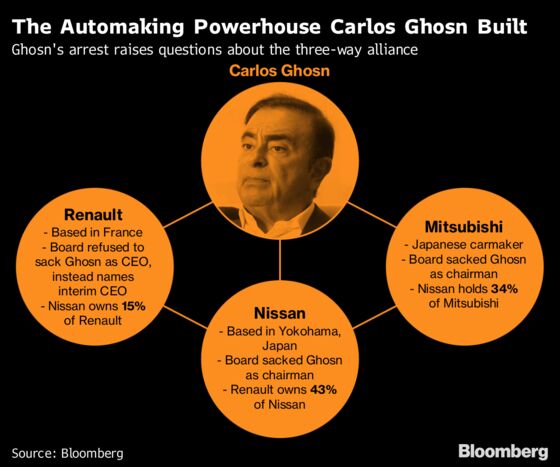 Both Nissan and Renault have repeatedly said they are committed to the car alliance, the world's largest. Nissan, though, has long been unhappy about what it considers an outsized French role in the partnership, and is seeking to redress perceived imbalances, people familiar with the matter have said.
Ghosn was arrested in Tokyo on Nov. 19, and on Dec. 10 he and Nissan were indicted by Japanese prosecutors over allegedly understating his income. The company's indictment has expanded the scrutiny beyond Ghosn and raised questions about its corporate governance. It also cast attention on Saikawa's leadership, and even his job may be at risk, people familiar with the situation inside the carmaker have said.
On Monday, Nissan's board put the brakes on naming a successor for Ghosn as chair, instead appointing a committee to look into governance at the automaker. Meantime, Renault, whose most powerful shareholder is the French state, is considering candidates to replace Ghosn as its chairman, but the board isn't ready to remove him, a person familiar with the matter said.