Nike Slips as Analysts Say Strong Earnings Were Priced In
(Bloomberg) -- Nike Inc.'s first-quarter earnings impressed Wall Street but there was little room for upside with the stock trading near record levels. The shares fell as much as 3.4 percent on Wednesday, trimming year-to-date gains and knocking Nike from its spot atop the Dow Jones Industrial Average's list of best performers. Some analysts, including Morgan Stanley, recommended that investors use the pullback as a buying opportunity.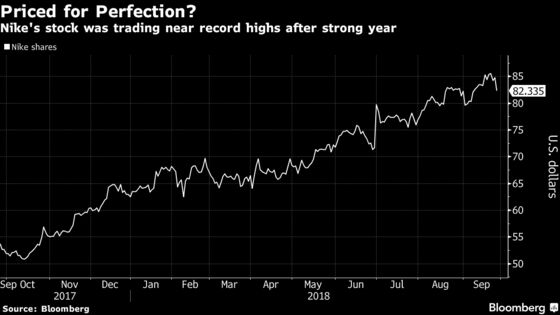 Here's what Wall Street is saying about the results:
"The stock reaction is noteworthy, in our view, as it shows that even with very strong operating performance, NKE shares could have trouble moving much higher from here given recent multiple expansion and the fact that strong top- and bottom-line growth through FY20 is already factored into Street numbers."
Nikic added that "positioning was very crowded on the long side" ahead of the results.
"We believe that these results are a positive read-through for NKE's largest wholesale partner," Foot Locker Inc., which was cited as a "top strategic partner" on the earnings call.
Rates Nike as market perform, price target $82
Morgan Stanley, Lauren Cassel
"We advocate buying the dip as its margin expansion story remains in early innings. NKE remains our top pick."
The 26 percent flow-through rate "highlights the margin benefit and future earnings power of NKE's direct to consumer transformation, in our view, and is a positive outlier in the sea of profitless growth we've observed all earnings season."
North America revenue growth accelerated ahead of expectations and despite concerns, Nike "is seeing no signs of a China slowdown" with constant currency revenue growing 20 percent in the quarter and digital posting a "staggering" 40 percent growth.
Overweight, price target $103
Goldman Sachs, Alexandra Walvis
"Strong execution meets high expectations" with most of the earnings upside driven by controlled Selling, General & Administrative expenses. "Overall revenue performance was largely in line with consensus, with continued acceleration in North America offset by lower than forecast revenues in EMEA and LatAm."
"Management reiterated full year guidance, though revenue growth is now expected at the lower end" of the prior range due to greater currency headwinds. "On balance, we remain optimistic on NKE's top line performance. We expect continued improvement in the North American market given better innovation and a healthier retail backdrop."
"Our conversations with investors suggested elevated expectations into the print for both sales and margins and we thus expect a muted stock reaction."
Neutral, price target $83
"FY1Q was a strong start to the year with balanced strength across the business and a return to growth for the Converse brand. We note, all regions showed EBIT improvement and inventories are reported well-managed across regions and flat y/y in North America."
"With strong full-price selling, the favorable mix to digital and tightly managed inventories, we remain bullish about prospects for gross margin improvement."
"Nike continues to execute towards its plan to evolve the business towards a faster, more innovative, and consumer-centric model. Ultimately, these investments are likely to drive improved ROIC, and justify a higher earnings multiple."
"This is only the third time sales growth outpaced inventory growth since 2015 and the best sales/inventory spread since 2010. This scenario gives us confidence in management's full year FY19 guidance which calls for gross margin expansion +50bps or slightly greater, which may prove conservative."
"We would remain on the sidelines" after the results "given the stock's multiple expansion since last year."
Market perform, price target $81
Bloomberg Intelligence, Chen Grazutis
"Nike's sales expansion in the U.S. and international markets signals category fundamentals are improving, yet a lofty valuation continues to leave little room for missed expectations."
"The company kept its full-year outlook despite top-line outperformance in fiscal 1Q, reflecting management's conservative approach amid volatility in foreign currencies, which may affect reported sales."