Nigerian President Renews Pledge to End Insurgency as Vote Looms
(Bloomberg) -- Nigerian President Muhammadu Buhari promised to end a deadly insurgency by Boko Haram Islamist militants, renewing a pledge he made ahead of his 2015 election as he seeks a second term.
"There has been a steady improvement in the security situation in the northeast," Buhari said Monday in a TV broadcast marking Nigeria's 58th anniversary of independence from British rule. "We remain committed to ending the crisis."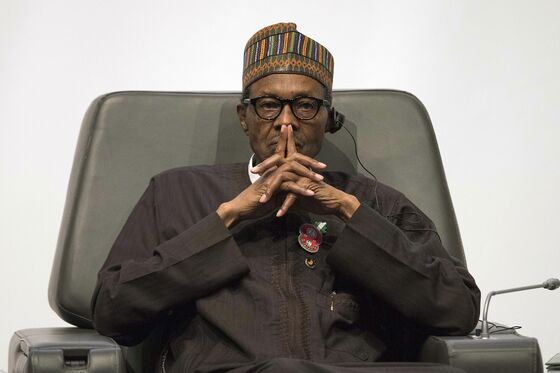 Boko Haram has waged a violent campaign in Nigeria's northeast since 2009 to impose its version of Islamic law on Africa's most populous country of almost 200 million people. The insurgency has left more than 20,000 people dead and forced millions to flee their homes.
While the army has regained large territories previously controlled by Boko Haram, the group has continued to conduct deadly raids. Most recently, suspected militants burnt down three villages in Konduga local government area in Borno State, in an attack that left six people dead.
Buhari also promised to continue to support all efforts to find "a durable solution" to a conflict between farmers and herdsmen, which has become Nigeria's deadliest threat, claiming about 1,300 lives in the first half of the year.
The 75-year-old leader's 2015 election was the first time an opposition party won power at the ballot box in Africa's biggest oil producer. The fight against corruption and efforts to strengthen the economy, two of his past pledges, were progressing, he said Monday.
"We are gradually strengthening the economy with a stable naira and falling inflation rate," Buhari said. "We are building an economy that is moving away from over-reliance on oil." The inflation rate rose for the first time in 19 months in August, to 11.2%.
Buhari's critics say his administration has achieved too little on all fronts. General elections are scheduled for February and the main opposition Peoples Democratic Party will chose its presidential candidate during a national convention on Oct. 5 and 6.