Nigerian Inflation Accelerates in April as Food Prices Surge
(Bloomberg) -- Nigerian inflation accelerated in April as food-price growth quickened.
Consumer prices in Africa's largest oil producer rose 11.4% from a year earlier, compared with 11.3% in March, the Abuja-based National Bureau of Statistics said in a report published Wednesday on Twitter. Prices rose 0.94% in the month.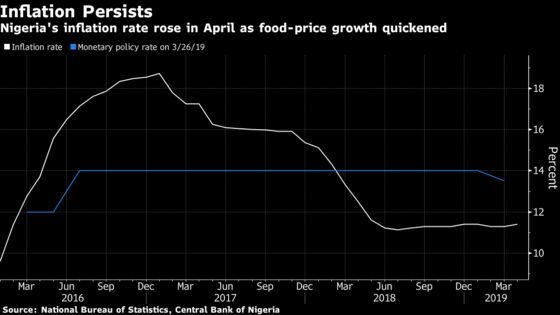 The pick-up in inflation could limit the room for the central bank to loosen policy further when it decides on interest rates next week. The regulator unexpectedly cut its key rate in March even as price growth has been outside the target band of 6 percent to 9 percent for more than three years.
The central bank has said it sees inflation moderating in the second half of the year. However, the implementation of a 67 percent increase in the national minimum wage that lawmakers recently approved and the possible removal of fuel subsidies could increase price pressure.