Nigerian GDP Growth Picks Up Momentum as Buhari Seeks New Term
(Bloomberg) -- As Nigerian President Muhammadu Buhari seeks re-election this week, economic growth is finally getting back to where it was when he took power four years ago.
Gross domestic product in Africa's largest oil producer expanded 1.9 percent last year, the most since 2015, the Abuja-based National Bureau of Statistics said on its website on Tuesday. The economy grew 2.4 percent in the three months through December from a year earlier, the fastest since the third quarter of 2015.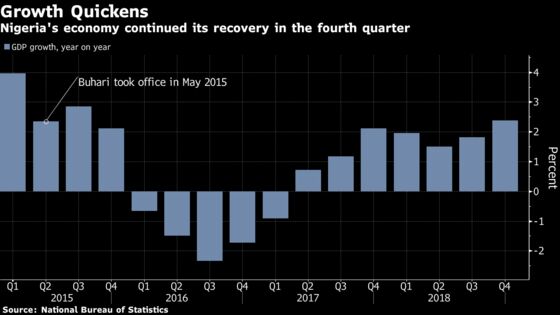 The performance of the economy, which contracted in 2016, was highlighted in the run-up to Saturday's election. The vote is expected to be a close contest between Buhari, who says he will focus on structural reforms to boost the oil and non-oil sectors, and opposition candidate Atiku Abubakar, a former vice president who says he will pursue more market-friendly policies.
Nigeria's economic fortunes are closely linked to its oil output. While it accounts for less than 10 percent of GDP, it's the biggest source of foreign revenue for the nation. Crude production declined to 1.91 million barrels a day in the fourth quarter from 1.94 million barrels in the three months through September.
"It's quite ironic that fourth-quarter growth was the strongest since" the time when Buhari took over, Michael Famoroti, an analyst at Stears Business, said by phone from the commercial capital, Lagos. "It's been an up-and-down ride since then and the direction is now up."
The World Bank sees the West African economy expanding 2.2 percent this year and the International Monetary Fund forecasts growth of 2 percent.
What Our Economist Says ...
The fourth-quarter number was stronger than I expected, primarily due to a stronger reading in telecoms than anticipated. It is possible that it could help Buhari to convince voters that the economy is finally recovering more forcefully from the 2016 recession. But Buhari's four-year term has still seen the weakest growth in the living memory of a large share of the electorate  -- that's since the early 1990s -- so the economy is still going to favor Abubakar

-Mark Bohlund, Bloomberg Economics