Nigerian Economic Growth Slows as Oil Production Slumps
(Bloomberg) -- Nigeria's economic growth slowed for the second consecutive quarter as oil production fell.
Gross domestic product in Africa's largest crude producer expanded 1.5 percent in the three months through June from a year earlier, the Abuja-based National Bureau of Statistics said in a report released on Twitter Monday. That compares with 1.95 percent in the first quarter.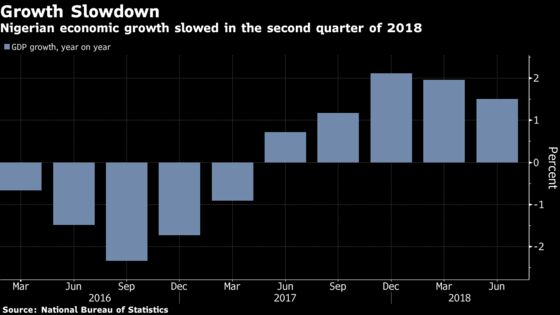 Oil output fell to 1.84 million barrels a day in the period. That's the lowest since the first quarter of last year, when the Nigerian economy was contracting. While the fuel accounts for 9 percent of GDP, crude is the West African nation's biggest source of foreign income. Crop production grew at the slowest pace since 1987, Statistician General Yemi Kale said on Twitter.
Nigeria's economy is recovering from its first contraction in a quarter century in 2016, when the price and output of oil fell the most in decades. The International Monetary Fund forecast this year's economic growth at 2.1 percent from less than 1 percent in 2017 as the crude sector improves and makes available more foreign currency needed for imports.
The crude sector will improve as the Nigerian National Petroleum Corp. addresses challenges that constrained output in the second quarter, Minister of Budget and National Planning, Udoma Udoma said in an emailed statement. The government is also taking steps to tackle security concerns for farmers that affected their production, he said.
President Muhammadu Buhari in June signed a budget of 9.1 trillion naira ($25 billion) for this year, the nation's biggest yet, and increased investment in roads, rail, ports and power to boost the economy. To further spur growth, the central bank last week pledged to invest in corporate bonds aimed at financing projects in agriculture and manufacturing.
Increased spending and the central bank's move to lend money cheaper to large companies should support stronger growth in the second half of the year, Feyisike Ilemore, an analyst at ARM Research, said by phone.
The central bank has kept its key rate at a record high of 14 percent for more than two years to fight inflation that at 11.1 percent in July remains above target. Policy makers may increase rates given price risks from spending ahead of general elections planned for February, according to Deputy Governor Joseph Nnanna.
"Given the slowdown in agriculture and the spending boost expected, they are probably still quite concerned about inflation in the second half" of the year, said Michael Famoroti, an economist at Vetiva Capital Management Ltd.