Nigeria Ups the Ante on Banks With Tougher Lending Demands
(Bloomberg) -- Nigeria's central bank is increasing pressure on lenders to keep providing credit to boost economic growth in Africa's biggest oil producer.
The West African nation's banking regulator raised the minimum loan-to-deposit ratio to 65% from 60% to "sustain the momentum" seen in lending since it first lifted the measure in July, it said in a statement dated Sept. 30. Banks have until Dec. 31 to comply with the directive or risk an additional cash-reserve requirement equal to 50% of the lending shortfall implied by the ratio.
The directive comes after some lenders failed to meet an earlier deadline to ramp up lending, Ahmad Abdullahi, director of banking supervision, said on Monday, without elaborating. The steps are among a raft of regulations aimed at forcing banks to boost credit -- mainly to farmers, small- and medium-sized businesses and consumers -- as President Muhammadu Buhari's administration seeks to reignite economic growth.
"The impact on asset quality will be very apparent when the economy experiences a change in the business cycle," Omotola Abimbola, a macro analyst at Chapel Hill Denham Securities Ltd. in Lagos. said by phone. Banks need to expand credit in a "sustainable manner, not in a rush, which will be the concern of some of the banks."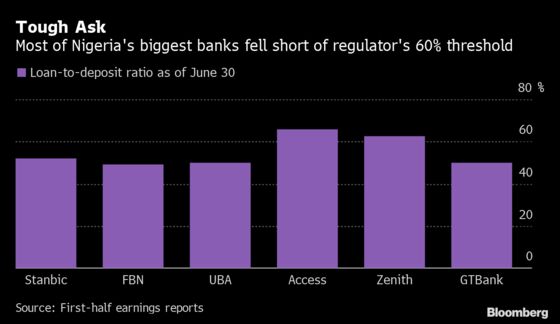 Nigerian gross credit increased by 5.3% to 16.4 trillion naira ($45.5 billion) by the end of September from May 31, the central bank said.
Only two out of the nation's six biggest banks met the requirements as of June 30. The firms had lost some of their appetite to extend credit after bad loans surged in the wake of a crash in crude prices, but are now starting to make headway into consumer lending amid the constant pressure from regulators.
While the measure is helping to spur the beginnings of an increase in lending, it also comes at a time when banks are seeing their net-interest margins come under pressure because of lower yields on government securities, Abimbola said.