Nigeria's Main Opposition Party Chooses Candidate to Face Buhari
(Bloomberg) -- Delegates of Nigeria's main opposition People's Democratic Party are voting in the southern oil-hub of Port Harcourt to choose a candidate to face President Muhammadu Buhari in February elections.
Top contenders among the 12 vying for the ticket include former Vice President Atiku Abubakar, Aminu Tambuwal, currently governor of Sokoto state in the north, Senate head Bukola Saraki and Rabiu Kwankwaso, a former defense minister and state governor.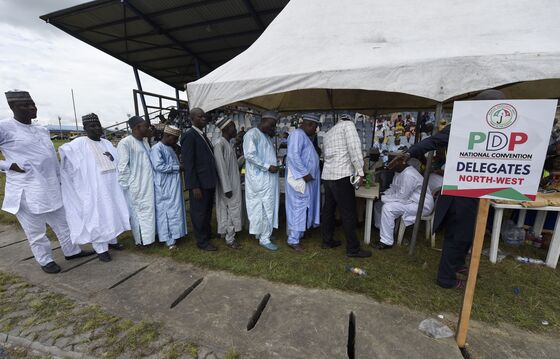 "Our eminently qualified candidates have records of achievements behind them," party Chairman Uche Secondus said in his opening speech at the convention on Saturday. "Nigerians expect delegates to choose a candidate that can beat President Buhari. The primaries will be free, fair and transparent."
The PDP, which was in power for 16 years after Nigeria ended military rule in 1999, lost the last vote in 2015 as President Muhammadu Buhari led the All Progressives Congress, created from a coalition of opposition parties, to victory against an incumbent for the first time in the country's history.
Abubakar, Tambuwal, Saraki and Kwankwaso, who had quit the PDP to join the opposition in 2015, switched allegiance back to the party in July for a chance to challenge Buhari.