Ex-World Banker Oby Ezekwesili Ends Nigeria Presidential Bid
(Bloomberg) -- Former World Bank Vice President for Africa Oby Ezekwesili said she was withdrawing her candidacy from next month's presidential election in Nigeria to back an opposition coalition instead.
She will "focus on helping to build a coalition for a viable alternative" to Nigeria's two main parties, incumbent President Muhammadu Buhari's All Progressives Congress and main opponent Atiku Abubakar's People's Democratic Party, Ezekwesili said Thursday in a post on her Twitter account.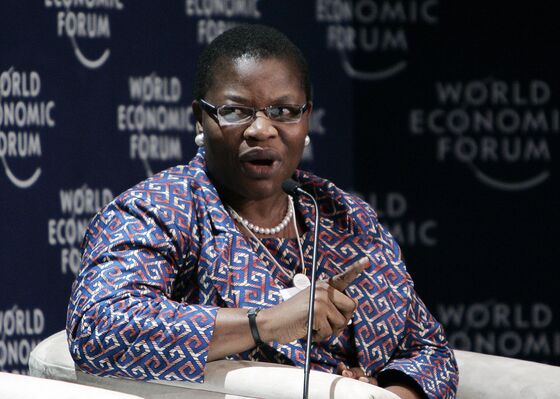 A co-founder of the Bring Back Our Girls movement for the release of the Chibok students abducted by Islamist militants in 2014, Ezekwesili, 55, said she had made the decision after extensive discussions with Nigerians at home and abroad.
Smaller opposition parties withdrawing from the presidential race with just 22 days to the vote isn't likely to make any "substantial difference," said Idayat Hassan, the executive director of Abuja-based Centre for Democracy and Development. "They have made a win easier for one of the two dominant political parties."
The campaign ahead of the Feb. 16 election has become increasingly bitter. Abubakar, a 72-year-old former vice president and wealthy businessman, has accused the president of being inept at running the economy of the continent's most populous nation. The camp of Buhari, a 76-year-old former military ruler, has suggested Abubakar acquired his wealth corruptly.
"This coalition for a viable alternative has now more than ever before become an urgent mission for and on behalf of the citizenry," Ezekwesili said.
The politician had joined the race to become president of Africa's biggest oil producer in October, when she accepted the nomination of the Allied Congress Party of Nigeria, a lesser-known opposition party. Shortly after her announcement Thursday, the party said it would back Buhari's APC, according to local media reports.
Ezekwesili was minister of solid minerals and education under President Olusegun Obasanjo, between 2003 and 2007. The Peace Research Institute Oslo included her in a shortlist of likely Nobel Peace Prize winners in 2018.
Withdrawing her candidacy to throw her weight behind a nascent coalition weeks before the vote is "too little too late," said Cheta Nwanze, head of research at Lagos-based risk advisory SBM Intelligence. "If they had reached an agreement a lot earlier and had been seen campaigning vigorously for the coalition candidate, it would probably have had more of an impact."