Nigeria Holds Key Interest Rate to Sustain Economic Recovery
(Bloomberg) -- Nigeria's central bank held its benchmark interest rate at a more than five-year low to support economic growth.
All 10 members of the monetary policy committee who attended the two-day meeting voted to keep the rate at 11.5%, Governor Godwin Emefiele said Tuesday in a virtual briefing from the capital, Abuja. The seventh consecutive unchanged stance was expected by all 10 economists in a Bloomberg survey.
Read: NIGERIA REACT: CBN Holds Key Rate to Support Fragile Recovery
"The MPC believes that the existing monetary policy stance has supported the growth recovery and should be allowed to continue for a little longer for consolidation to achieve the MPC's mandate of price stability," and support an enabling environment for sustainable growth, Emefiele said.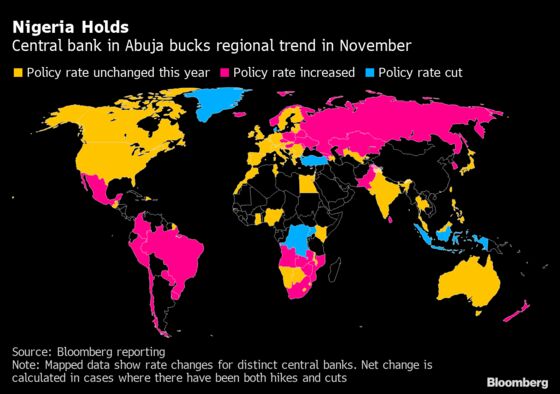 In a communique after its MPC meeting in September, Emefiele said the central bank's medium-term goal is to fast-track growth rates above historical levels.
The economy's recovery from its worst contraction in almost three decades in 2020 lost momentum in the third quarter to expand at 4% from a year earlier, compared with 5% in the previous three months. A survey of 12 economists conducted by Bloomberg expects the pace of growth to further decelerate to 1.4% in the final quarter of this year.
The MPC now sees growth averaging 3.1% in 2021, compared with a forecast of 2.86% in September and the International Monetary Fund's 2.6% prediction.
Short-term growth prospects remain fragile because of the course of the pandemic and domestic security, the IMF said last week. Nigeria has struggled to overcome a more than decade-long Islamist insurgency in the northeast and bandit attacks in the northwest that have disrupted farming and displaced millions of people.
Inflation, which has exceeded the 9% ceiling of the central bank's target band for more than six years, slowed to a 10-month low of 16% in October. The policy committee sees price growth easing further due to a bumper harvest, Emefiele said.
Faster economic growth and subsiding inflation are key to reducing poverty in Africa's most-populous nation, where more than 39% of Nigerians live on less than $1.90 a day.