Nigeria Flood Deaths Rise to 199 as Heavy Rains Wreak Havoc
(Bloomberg) -- The death toll from Nigerian flooding has almost doubled while cocoa and rice production has been devastated after torrential rains caused two rivers to overflow.
About 199 people have died and more than 826,000 people have been impacted in some way across ten states with the numbers expected to rise further, the National Emergency Management Agency said in an emailed report on Thursday. About 150,000 hectares (371,000 acres) of agricultural land has been destroyed and 200,000 people have been displaced, it said.
The quality of cocoa harvested in the West African nation has worsened after the heavy rainfalls caused an outbreak of fungal disease on the pods and trees. The worst-hit southeastern cocoa belt could lose as much as 40 percent of its estimated output, according to Sayina Riman, president of the Cocoa Association of Nigeria.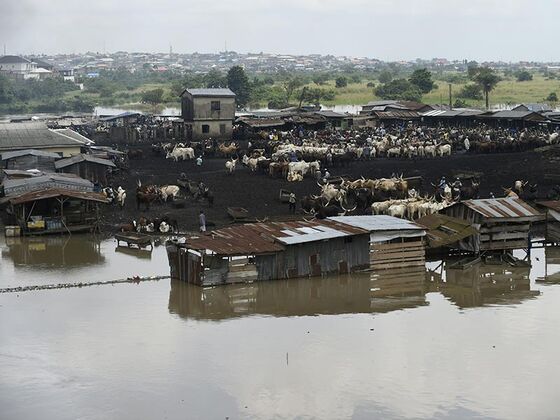 Alerts by the hydrological services agency indicated the flooding could reach the scale of the last major such event in 2012, which displaced 2.2 million people and resulted in 363 deaths.
A national disaster has been declared in the four worst-affected states: Anambra, Delta, Kogi and Niger. Eight more have been placed on red alert.