Next Digital Says Lai's Frozen Assets Have No 'Negative Effect'
(Bloomberg) -- Next Digital Ltd., the embattled media company controlled by Jimmy Lai, said Wednesday a freeze of the pro-democracy activist's assets won't have an impact on its operations or finances. The company applied for shares to resume trading Thursday.
The freeze won't have an "immediate negative effect on the financial situation or operations" of the company, according to a statement to the Hong Kong stock exchange. Next Digital said it has enough cash flow and capital to maintain operations for an 18-month period ending Sept. 30, 2022, without needing additional funding from Lai.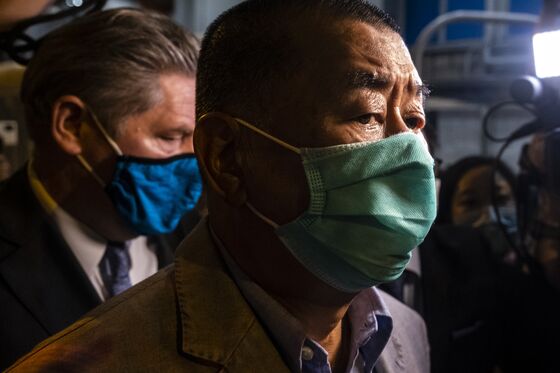 The 73-year-old media tycoon, who pled guilty this month for his role in organizing an anti-government protest in 2019, is one of the most prominent Hong Kong democracy campaigners and faces multiple charges for challenging Beijing's tightening grip on the territory. He was sentenced to 14 months in prison for attending unauthorized protests alongside other activists, and charged with more national security offenses. He faces another sentencing May 28.
On May 14, the Hong Kong government issued notices to freeze all Next Digital shares held by Lai, and local bank accounts of three companies he owns. It was the first time that authorities used the security law to freeze the shares of a listed company's large shareholder. Shares were suspended May 17 following the order.
Next Digital, which operates the Apple Daily newspaper, said in the statement the asset freeze won't have an impact on an outstanding shareholder's loan provided by Lai to the company. It also said it doesn't consider a prohibition on Lai's share dealing "will change or affect the existing trading volume pattern" of its stock.
The group's unaudited bank and cash balances as of March were about HK$521.4 million ($67.2 million), with current liabilities of HK$381.8 million. The group doesn't see a risk of any cross default provisions of any existing loans, it said.
The company earlier announced it would cease publication of its Taiwan Apple Daily this month, and will see a cost savings in the longer run due to the halt.