Newest Bet on Pot-Infused Energy Drinks Comes From Diverse Firm
(Bloomberg) -- For the burgeoning cannabis-infused drinks space, there's a new kid on the block, and it comes from a once-unlikely source -- a company that's legacy business is in heavy equipment rentals.
India Globalization Capital Inc., which added a second business in 2013 to develop cannabis-based pharmaceuticals focusing on products for people with Alzheimer's disease, announced a distribution and partnership deal which includes creating a branded hemp or CBD-infused version of an energy drink called "Nitro G."
Shares of IGC rose as much as 45 percent Wednesday, adding to the stock's 133 percent year-to-date gain.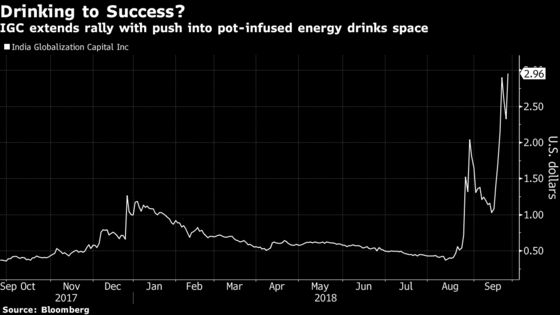 The Maryland-based company will pay 797,000 shares of restricted, unregistered common stock for a 10-year agreement for the rights to market the products in the United States, Canada, Mexico and South America. The company will also gain exclusive international rights to all developed CBD-infused products.
"This represents a unique opportunity for the development and commercialization of a CBD-infused, sugar free energy beverage," according to Chief Executive Officer Ram Mukunda.
The global energy drinks market is expected to reach $85 billion by 2025, with non-alcoholic beverage sales expected to make up a major portion of the space, he added, citing forecasts by Grand View Research.
"By combining the experience of IGC with Hyalolex with the manufacturer in Malaysia, we potentially bring together unique expertise in microencapsulation, solubility, infusion, controlled dose delivery and sugar free processes, among others," Mukunda said. "The acquired knowledge base can be further leveraged to diversify the delivery method for IGC branded products including Hyalolex."