New York Subway Renovations Must Include Elevator Installations
(Bloomberg) -- The Metropolitan Transportation Authority in New York must install elevators in all subway stations when its renovations involve the replacement of stairs, a federal judge ruled in a lawsuit brought under the Americans with Disabilities Act.
U.S. District Judge Edgardo Ramos said stairs replacement at a Bronx subway station affected the station's usability, triggering the MTA's obligation under the law to install elevators without regard to cost, unless it's not technically feasible, according to the U.S. Attorney's office in Manhattan.
"The MTA is now on notice that whenever it renovates a subway station throughout its system so as to affect the station's usability, the MTA is obligated to install an elevator," U.S. Attorney Geoffrey Berman said in a statement. "Individuals with disabilities have the same rights to use the New York City subway system as every other person."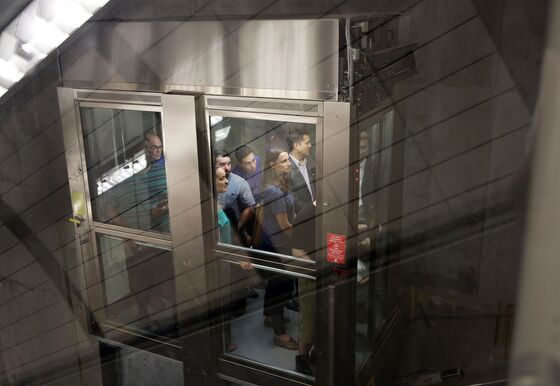 Cost estimates for installing an elevator are in the tens of millions of dollars, and vary according to the station, officials at the cash-strapped agency have said. New York Transit President Andy Byford has vowed to install elevators at dozens of stations throughout the sprawling system as part of a multibillion-dollar makeover, if the agency can secure enough financing. Some antiquated stations are too cramped to physically accommodate elevators, agency officials have said.
Only about a quarter of the 472 subway stations in New York's five boroughs have elevators, one of the lowest percentages of any major transit system in the world, the New York Times reported last month.
The court's decision was based on the Americans with Disabilities Act of 1990, Berman said. It prohibits discrimination against individuals with disabilities in all areas of public life, including jobs, schools, transportation and entertainment. Berman vowed that his office would continue such lawsuits so "that that everyone enjoys equal access to public transit in this district."
Ramos rejected the MTA's argument that the governing regulation allowed it not to install an elevator because cost considerations, the U.S. Attorney's office said.
MTA spokesman Shams Tarek said the agency was preparing a response to the decision.