New York's Pounding Rain Raises Flood Threat Into Evening
(Bloomberg) -- The powerful storm battering the U.S. Northeast will inundate New York City with lashing rain and possible flash floods through Tuesday night, then unleash the worst of its fury on New England.
As much as 4 inches (10 centimeters) could fall across New York as twin low pressure systems sweep up the coast, said Bob Oravec, a senior branch forecaster with the U.S. Weather Prediction Center. The larger of the two is about 270 miles (435 kilometers) offshore and expected to become quite powerful, ripping Cape Cod and eastern Massachusetts with wind gusts as high as 75 miles per hour.
New York and New Jersey residents are dealing with minor transportation delays, along with some "nuisance" flooding and swelling waterways, though there have been no major disruptions so far. New York is still on edge due to the extreme flooding in early September when remnants of Hurricane Ida swept through the region, killing about a dozen people living in underground apartments and briefly buckling the city's transit system.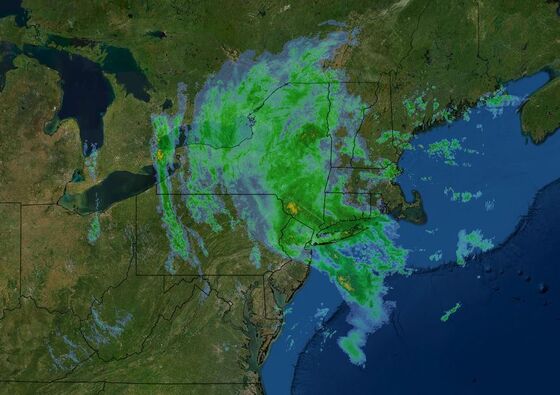 As the latest storm approached, New York Governor Kathy Hochul declared a state disaster emergency for much of the state, including New York City, Long Island and the Hudson Valley.
Some city roads had flooding, though all were passable, Acting Emergency Management Commissioner Andrew D'Amora said Tuesday during a New York City briefing. Part of the Staten Island Rail Service was briefly suspended due to flooding, though there are no other disruptions on subways, he said. There are also minor delays at airports.
About 250 New York City schools faced some potential for flooding and custodial staff stayed overnight to ensure there weren't any problems, Mayor Bill de Blasio said in the briefing. Those schools opened without difficulty.
"Hopefully now we've seen the worst of it," De Blasio said. "But we are going to remain vigilant throughout." He urged New Yorkers to stay informed, saying "we've also seen times where we get real surprises from Mother Nature."
Flash flood warnings and watches are in place from New Jersey to Massachusetts, and New York City issued a travel advisory from late Monday to Tuesday. Along with the rain, New York's five boroughs will be swept by gusty winds of up to 30 miles per hour, but the heaviest gales will cross Long Island into southern New England, where high-wind warnings are in place.
There have been reports of "minor nuisance flooding" along roadways early Tuesday, said Brian Ciemnecki, a National Weather Service meteorologist in Upton, New York. "The rain will continue into tonight and start clearing out in the morning," he said.
Across New Jersey, state troopers have responded to 188 accidents and 81 motorist calls, New Jersey Governor Phil Murphy said in a Tuesday briefing.
All New Jersey Transit train routes except for the Raritan Valley line are running as normal, Diane Gutierrez-Scaccetti, the state's commissioner of the department of transportation, said in the briefing. South Jersey bus routes remain unaffected, though the North is using predetermined bus flood routes, she added.
Rivers across New Jersey have already started to swell from the rain. The Rahway River in Springfield rose more than five feet since 8 p.m. Monday and the Saddle River in Lodi gained more than three feet in 12 hours and is forecast to crest two feet higher than that.
There is a chance the storm could undergo rapid intensification in a process known as bombogenesis, which is when the central pressure of storm drops by at least 24 millibars in 24 hours. A storm's central pressure is a measure of its strength, with the lower readings more intense. This phenomenon, often called "bombing out" by meteorologists, is often seen across the Atlantic in winter and can lead to heavy snow falls when it occurs in colder temperatures.
The storm that flooded California earlier this week was also a bomb cyclone.
The East Coast system has caught the eye of forecasters at the National Hurricane Center, which gives it a 20% chance of briefly becoming a subtropical storm and getting named in the next day.
If the storm's structure changes as it strengthens, it could meet the criteria to become the Atlantic's 21st storm of the year and would be named Wanda. Regardless, the impacts along the Massachusetts coast will still be severe at times.
The worst effects will probably be later Tuesday in Massachusetts and Rhode Island, where the storm is expected to loop in the ocean off Cape Cod and rake coastal areas with tree-toppling winds that could lead to power outages.
"It is going to be a pretty high impact wind event there," U.S. Weather Prediction Center's Oravec said.
As the rain tapers off in New York on Wednesday, the respite may be short lived. There is another storm building across the central U.S. that could pump more heavy rain into the Northeast this weekend, he said, though the weekend storm probably won't be as intense as the current systems off the East Coast.