New York's Cuomo, Nixon Clash Over Subways in Tense Debate
(Bloomberg) -- New York Governor Andrew Cuomo, seeking his third term, and challenger Cynthia Nixon sparred over the New York City transit system and marijuana legalization in their first and only scheduled debate before the Sept. 13 Democratic primary.
"Can you stop interrupting?" Cuomo said to Nixon near the start of the debate at Hofstra University on Long Island. "Can you stop lying?" Nixon responded.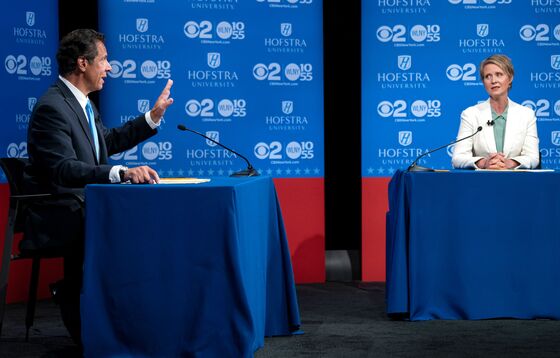 First-time candidate Nixon -- a veteran stage and screen actress best known for playing lawyer Miranda Hobbes in HBO's "Sex and the City" -- is running as a progressive underdog against Cuomo, who if re-elected in November would match the three terms won by his late father, Mario Cuomo.
Cuomo appeared to take aim at Nixon's career and political activism, saying the governor job was not about advocacy but action and management.
"This is real life," he said.
Cuomo promised under questioning not to make a run for the White House in 2020, if re-elected. He also sought to make Donald Trump an issue, saying the U.S. president was a "main risk to the State of New York" and that his "extreme" conservative politics couldn't be allowed to permeate the state's culture.
Nixon shot back, saying New York needs a chief executive who will oppose the president "not just with rhetoric but with policy."
She challenged Cuomo on why, if he's against Trump policies, he hasn't expanded access to state drivers' licenses for undocumented New Yorkers or done more to fight for single-payer health care, abortion rights or laws to combat climate change.
One of the most heated exchanges centered on New York City's aging mass transit system. Nixon claimed subway delays have tripled under Cuomo and that train speeds are slower today than in 1950.
Cuomo, when asked if the state's Metropolitan Transportation Authority would consider scrapping a planned fare increase and have the state make up a reported $350 million transportation revenue shortfall, said that New York City owned the subway system and wasn't doing enough -- an apparent jab at the city's mayor, Bill De Blasio, a rival.
'Completely Disingenuous'
"If the city will do it 50-50, I will do it," he said. "We need $33 billion -- the state can't do it," he said. "It's a shared city-state responsibility and I say let's do it 50-50."
Nixon, who said that if elected she would delay the fare increase and address the financing gap, argued that the subways were, ultimately, the state's responsibility. "'To pretend it's anything else is completely disingenuous," she said.
"Yes, it preceded Andrew Cuomo but he stole hundreds of millions of dollars from the MTA budget for his pet projects that have nothing to do with it," Nixon said, adding that Cuomo has had more than seven years to avoid the crisis.
The governor, she said, "used the MTA like an ATM."
Cuomo retorted: "My opponent lives in the world of fiction. I live in the world of fact."
De Blasio, who hasn't made an endorsement in the race but has political ties with Nixon, backed her on the transit issue with a tweet on Wednesday evening.
"The state runs the MTA. @NYGovCuomo knows this. I know he's really bad at it - every New Yorker does - but he can't just pretend it's not his fault because it's election time," the mayor said.
Nixon, raising the topic of corruption in Albany, sought to link Cuomo to the conviction of his former aide, Joe Percoco, on charges that he took bribes from companies seeking state economic development funds. Cuomo said Percoco had engaged in wrongdoing and would pay the price, but that everyone agrees he had "nothing to do with it, period."
Cuomo said campaign finance reform was needed but wasn't achievable without Democratic control of the New York State Senate. Nixon also brought up Cuomo's shuttering of an ethics panel, the Moreland Commission.
The governor sought to compare Nixon to Trump when it came to transparency, criticizing her for not releasing enough of her tax returns. She released five years of returns earlier this month.
On marijuana, both Cuomo and Nixon agreed the drug should be legalized. They clashed over how to use potential proceeds from sales of the drug, with Cuomo disagreeing with Nixon's view that money should be used to help poor minority communities that she said had suffered under American drug laws.
Nixon also claimed that Cuomo didn't approve of legalization until he came under pressure because of her campaign, a charge he denied.
The winner of the Democratic primary will face Republican gubernatorial candidate Marc Molinaro, the Dutchess County executive. The November general election is considered safe for Democrats. Still, regardless of the outcome on Sept. 13, Nixon already has secured the nomination of the state's Working Families Party.
Nixon is hoping for the kind of primary upset seen in June, when progressive Alexandria Ocasio-Cortez beat 10-term Democratic Representative Joe Crowley in a congressional district covering Queens and part of the Bronx.
Cuomo's funding advantage is massive, with his $24 million campaign treasury dwarfing the $442,000 Nixon had as of Aug. 13.