New York MTA Splits Leadership Role Amid Ridership Struggles
(Bloomberg) -- The New York Metropolitan Transportation Authority is overhauling its leadership as the subway and train operator struggles to bring back riders and plug budget deficits.
Janno Lieber, who oversees the agency's $51.5 billion capital spending program, will be appointed as chief executive officer, according to the MTA. Sarah Feinberg, who manages the MTA's subways and buses, will be nominated to chair the agency's board and will be the first woman to head that panel, according to the transit agency.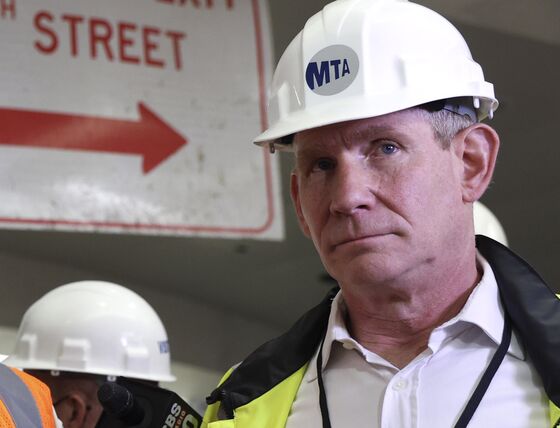 Pat Foye, the MTA's current chief executive officer and chairman, will be appointed as interim president of New York's Empire State Development Corp, which promotes business activity in the state, according to the MTA. The Wall Street Journal reported the changes earlier.
The leadership change comes as the MTA, the largest mass-transit operator in the U.S., struggles to bring riders back to its network of subways, buses and commuter railroads. The system needs ridership to return to pre-pandemic levels to help address budget deficits projected to begin as soon as 2024.
"The COVID crisis proved – once again – that mass transit is New York's linchpin, in good times and bad," Lieber said in a statement. "Now we need to keep building a system that connects people from all communities to jobs, education and opportunity. I look forward to taking on this important new role and to lead MTA in support of the New York City region's economic revival."
Lieber and Feinberg will begin their new positions on July 30, according to a senior MTA official, who declined to speak on the record because details of the changes have yet to be announced publicly. The two will work closely to increase ridership and oversee the agency's strategic direction, according to the MTA official.
The governor appoints MTA's chief executive officer and chairman, with those nominations subject to confirmation by the state's Senate.
Lieber has served as MTA's chief development officer since 2017 and is also the president of the agency's construction and development, overseeing a $51.5 billion multi-year capital spending plan to modernize the subway system, expand service and make more stations accessible.
Feinberg is interim president of MTA's New York City Transit, where she has managed the agency's subways and buses through the coronavirus pandemic. Feinberg will step down from that position, according to the MTA official.
"I am thrilled to be stepping into a position that allows me to continue to play a significant role in how our subway and bus systems operate, but to also have even more of an impact in shaping the future of the agency, and of transportation in this city and region," Feinberg said in a statement. "There should be no higher priority than ensuring we are doing all we can to bring ridership back - and as ridership comes back, so will the city's economic recovery."