New York MTA Chief Calls Senate Bill 'Shameful' and 'Backwards'
(Bloomberg) -- The head of New York's Metropolitan Transportation Authority lambasted the Senate Republicans' latest virus relief plan, saying the "shameful" bill will force the largest U.S. transit system to gut its capital plan and impose "drastic" service reductions.
The Senate Monday presented its $1 trillion plan to help the nation's economy as the coronavirus pandemic has forced areas of the U.S. to shut down businesses and schools for extended periods of time. It's much smaller than the $3.5 trillion relief bill passed by House Democrats in May, which includes nearly $16 billion for public transportation. The Senate GOP proposal has no additional money for public transit agencies, according to the American Public Transportation Association.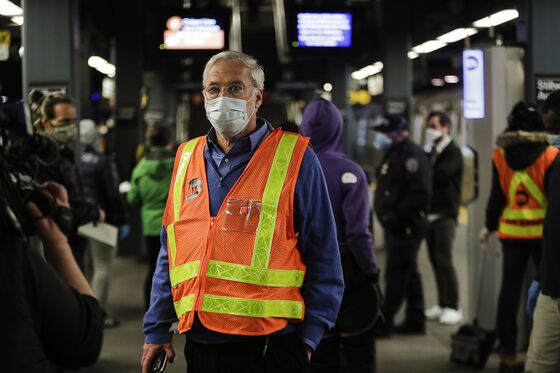 "If the federal government fails to act, this pandemic will end up on the backs of riders and stymie not just New York's economic rebound, but the nation's as well," Pat Foye, MTA's chairman and chief executive officer, said in a statement Tuesday. "Washington: don't let it happen."
Public transportation agencies from San Francisco to New York are seeking an additional $36 billion in federal aid to help cover lost revenue and increasing costs of cleaning and disinfecting. The MTA needs $3.9 billion of federal cash through 2020 and is facing a combined deficit this year and next of $11 billion, Foye said. The Cares Act already allocated nearly $4 billion to the MTA.
Foye warned the MTA network of subways, buses and commuter rail lines could again become neglected as they were in the 1970s. The MTA has said it may need to raise fares and tolls, impose layoffs, and delay or reduce its record $51.5 billion capital plan to modernize the system.
"This backwards bill will only further devastate our country and economy with no dedicated funding for mass transit – the circulatory system of the nation – and no new support for state and local governments," Foye said.