New York Asks Millions to Conserve Power as Heat Wave Tests Grid
(Bloomberg) -- New York City is urging all of its 8.4 million residents to conserve electricity to avoid outages as a brutal heat wave peaks, becoming the latest region to have its power grid tested this year by extreme weather.
The largest city in the U.S. issued an emergency alert shortly after 4:15 p.m. on Wednesday, saying homes and businesses should avoid use of major appliances and limit air conditioning. Central Park hit 98 degrees Fahrenheit (37 degrees Celsius) on Wednesday afternoon, the highest since 2013. As the heat broke late in the day, warnings were issued for heavy thunderstorms.
"We have a real challenge on our hands," Mayor Bill de Blasio said during a briefing Wednesday. "Immediately reduce the use of electricity in your home or in your business. This is very serious stuff."​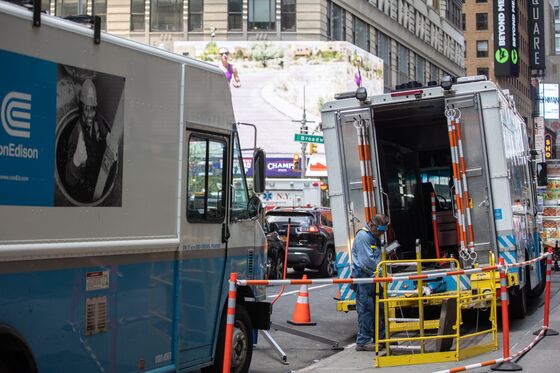 The utility that provides power to New York City, Consolidated Edison Inc., had about 2,877 customers without services in the five boroughs and Westchester County at 1:00 a.m. local time on Thursday, according to the company's website. The city's subways are running on time, and the system has adequate power, said Aaron Donovan, a Metropolitan Transportation Authority spokesman.
Again and again this year, extreme weather has pushed power grids and other infrastructure to the brink. In February, a rare deep freeze in Texas crippled the state's power system, left millions in the dark and killed more than 150 people. California narrowly averted blackouts during a heat wave earlier in June. And this week, an historic heat wave in the Pacific Northwest buckled roads, halted streetcars and forced rolling outages in eastern Washington.
The utility that serves the Pacific Northwest region, Avista Corp., announced another round of blackouts Wednesday to cope with soaring demand for electricity. The outages were expected to affect about 5,800 customers, the company said.
In New York, de Blasio said earlier Wednesday that outages were confined to a few neighborhoods, most notably the Williamsburg neighborhood of Brooklyn, where about 1,700 customers lost power. But over the course of the day, de Blasio said Con Ed came to the conclusion it was a "bigger challenge."
"We do not want to press the limits of the system," he said. "This is where we need to see a reduction in demand quickly to make sure that we do not run any risks here."​
Moments after the city called for conservation and warned of possible outages, demand for electricity in the region began to dip, according to data from the New York Independent System Operator, which runs the state's grid.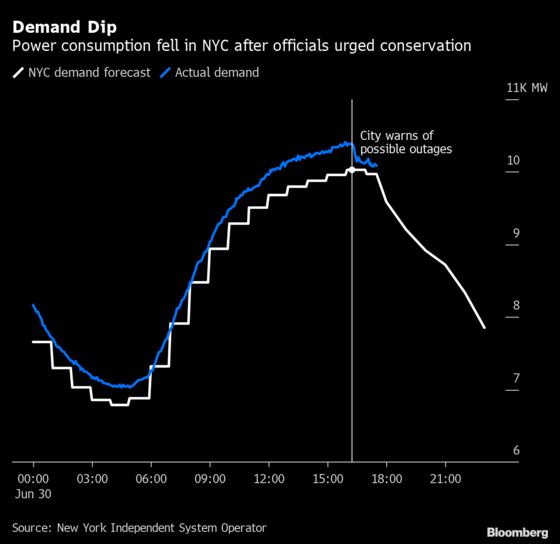 The heat in the normally rainy and temperate Pacific Northwest has been even more brutal. Lytton, British Columbia -- a region of glacier-fed rivers -- reached 121 degrees. British Columbia has reported about 300 more deaths than normal over the past five days.
From 2004 to 2018, heat killed an average of 702 people in the U.S. each year, according to the Centers for Disease Control and Prevention.

"Heat is a silent killer, it is not something visual like a tornado or a hurricane," said Kimberly McMahon of the National Weather Service. "With respect to heat fatalities, there will still be heat related facilities days after a heat event ends."
The Northwest heat prompted President Joe Biden to call for a more resilient power grid. He met Wednesday with governors from Western states anxious about another summer of wildfires, drought and power failures, and pledged that the government will give additional aviation support using satellites and other new technologies to remotely detect fires.
Participants included Oregon Governor Kate Brown, who declared a state of emergency Tuesday, citing an imminent wildfire threat amid hot, dry, windy conditions, ongoing drought, and no forecast rain. The mercury hit 116 degrees in Portland on Monday, a third-straight record.
Read more:
U.S. Cooling Demand Forecast 14 Degree Days More Than Normal